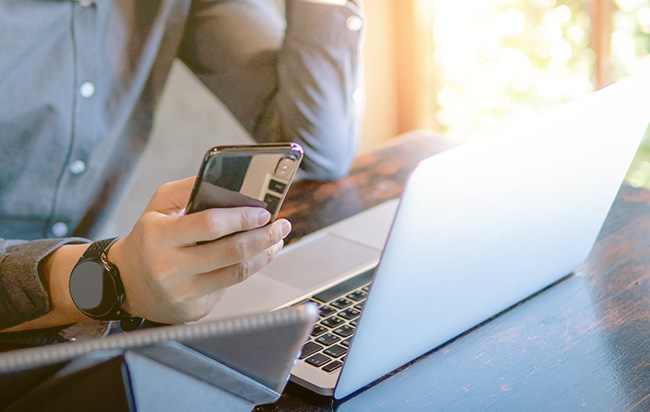 While many people have told me they don't use LinkedIn, I have found many benefits from using it, both for my career and personal interests. But it wasn't until I actually had an optimized LinkedIn profile and became active on the social network that I noticed even more possibilities.
First of all, LinkedIn is a great place to connect. With over 400 million active users in 200 countries, it's easy to find new prospects as well as old classmates, colleagues, similar professionals and potential employers or employees. With all those potential connections come opportunities. So how do you find and leverage them?
In essence, there are two basic approaches to this: outbound and inbound. Both methods suit specific needs and purposes. It probably won't surprise you to learn that I'm partial to the inbound approach. Generally speaking, it's more efficient, more sustainable, and less intrusive.
Similar to other social networks, depending on your profile, you will appeal to different viewers. A focused and optimized LinkedIn profile portrays your unique brand identity in an accurate and professional way.
Because of LinkedIn's somewhat buttoned-up nature, it's critical to be cautious of what you post. Outbound is about looking for people and actively reaching out to them. Inbound on the other hand, is about making it easier for the right people to find you while making sure you look as appealing as possible when they do.
Get Noticed By Professionals
Before getting into how to do that, lets discuss why. Once you've decided to use LinkedIn, whether to network with other professionals or switch careers, completing your profile is important. Just like in our offline lives, it's important to make a good first impression with digital touch points. You only have 7 seconds to make a first impression, so leave them with a good one.
As I mentioned earlier, LinkedIn is a large social network and is used all over the world. That means that you have to stay active, be current, and interact. People want to engage with those who look professional, sound knowledgeable and who are engaging. A professional photo will make you 14 times more likely to be found on LinkedIn. Otherwise, you make it easy for them to take a pass on you.
Advance your Career with LinkedIn
An optimized LinkedIn profile can improve your career path and set you up for future success. It will attract coworkers, industry professionals, industry influencers and even interested employers. In fact, 89% of recruiters say they've hired someone through LinkedIn.
Including your current job will automatically push you up on the search list, and help you be found by others in the organization. Adding previous positions, along with their skills, increases your search potential even further and gives you more credibility in your industry. Credibility shows others that you are knowledgeable and a potential asset to them.
Connect and Engage with Professionals
Consider joining relevant or interesting groups to your industry. This brings opportunities for you to learn more about what's new. Sharing your insights and integrating with a common community can bring you authenticity.
While following companies is a little less personal, it can provide you with different business insights or opportunities.
Engaging with LinkedIn Influencers, when appropriate, has the potential to bring positive exposure to you and your business. Groups, Companies and influencers can also give your viewers an idea of what you're into.
Optimizing your LinkedIn profile can improve your chances of connecting in these groups . The purpose here IS to connect, and in order to connect you need to stand out. People want to know up front who you are, what you have to offer, and why they should pick you in turn generating leads for your business.

A LinkedIn profile is rated on its content and given a strength level based on how it's completeness. From 1-5 (5 being the highest), the more accurate and relevant information you include, the higher your profile will be rated. This also helps in the search. The levels range beginning from; 1-Just beginning, 2-Intermediate, 3-Advanced, 4-Expert, 5-All Star.
To reach 100%, you must include;
Industry & location
Current position
2 previous positions
Education
Skills
Profile photo
At least 50 connections
So pay attention to your profile strength! Now, here are some tips to get you started.
Best practices of an optimized LinkedIn Profile:
Be consistent with your name. Align your LinkedIn account with the name you use on your business cards, email signature and resume.
Add a Professional Photo. Including an appropriate and current professional headshot will get you a higher response rate and make a big difference in how you are perceived.
Create a custom URL. A custom URL (http://www.linkedin.com/in/yourname) is typically shorter than the given one and sends the right branding message. Adding your full name to the URL also makes it easier for people to find you.
Fill in the summary. Make sure to include a short summary of what you do. Use simple language, there's no need to stuff your profile with big, fancy words.
Add Professional and Educational Experiences. Make sure to keep these sections accurate and up to date at all times. Include your current and (at least) 2 more of your most recent work experiences, plus descriptions. Otherwise, you're profile will not be complete.
Optimize – to ultimately stand out from the crowd. Avoid buzzwords!! Too often people fill their profiles with buzzwords like; strategic, organizational, motivated, driven, passionate and creative, to name a few, and professionals take notice to this. Instead, research active keywords in your industry. Include them throughout your profile – work them into your experiences, skills and interests to make you more searchable. If you're in finance, use words like cost analysis or budget planning. If you're in Sales & Marketing, try including words such as competitive analysis and lead management. Make sure to check for spelling mistakes and broken links – this could really hurt your credibility!
For a visually helpful guide to perfecting your LinkedIn profile, check out this insightful Infographic: It's All About the Presentation: How to Improve Your LinkedIn Profile and Presence composed by Quill.com and Ghergich & Co.
From Quill.com
Gabi is the Director of Implementation Team at Penguin Strategies. She is passionate about yoga, traveling, and Marketing Tech solutions.