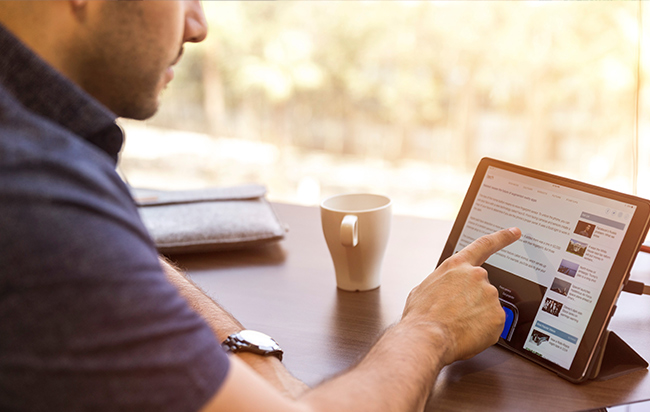 How to use LinkedIn for B2B Lead Generation

Why B2B Tech Companies Need Linkedin for b2b lead generation
In an article in the New York Times, according to best-selling author Neil Patel, the world is shrinking. The level of separation between one person and any other person on the planet has diminished from 6 levels in the 1990s to 3.5 levels now.
That has a significant impact on lead generation for B2B tech companies. Basically, it means business leads are getting harder and harder to come by. That trend will continue as the social pool continues to get smaller.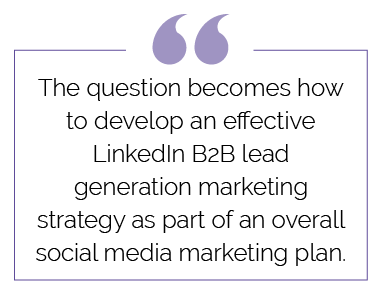 To survive and thrive in a connected world, B2B tech companies have to get creative about where they get their leads. For most of them, a healthy marketing strategy incorporates social media marketing across a variety of platforms.
Of all of the platforms used, LinkedIn is one of the most prominent. Here's why:
LinkedIn stats show that 93% of B2B marketers believe LinkedIn is the most effective site for lead generation

According to

Inside View

information, LinkedIn outdoes Facebook, Twitter and blogging for individual lead generation

64% of corporate website visits originate on LinkedIn

More than 80% of B2B social leads come from LinkedIn
For a B2B tech company looking to generate leads, those are promising statistics. The question becomes how to develop an effective LinkedIn B2B lead generation marketing strategy as part of an overall social media marketing plan.
There's a lot to consider.
For example, there's a learning curve. Setting up an effective LinkedIn site and then learning how to create and publish relevant posts takes an investment of time and energy. Depending on the LinkedIn package, sometimes it takes money, too.
Content is key to a vibrant LinkedIn marketing strategy, and finding the best ways to create good content and then distribute it on LinkedIn has its own learning curve. Optimizing a company profile, utilizing all the features effectively, and aligning sales and marketing on LinkedIn are important, too.
Understanding LinkedIn Analytics is also necessary because it allows B2B companies to aim and re-aim their LinkedIn marketing strategies as industry trends fluctuate.
There's a lot of work involved, but done right, LinkedIn marketing plans can effectively generate leads that help B2B tech companies grow.
1) How to Set Up Your Profile as a B2B Tech Leader
Optimizing your profile as a B2B Tech Leader is where Linkedin B2B lead generation begins. As a LinkedIn participant, you have to be interesting, engaging and professional, and you have to do it quickly so that browsers click through to know more about you—and your company.
You only have seven seconds to make a good first impression. Make it count.
Create a LinkedIn ACCOUNT
On the LinkedIn.com landing page, there are two options—you can sign in, or you can create an account to get started.
Those who already have accounts can sign in using the toolbar at the top of the page.
If you're just getting started, fill out the short questionnaire box in the middle of the page. There's a space for your first name, last name, and e-mail address. In the final box, create a password of six or more characters. When you're finished, hit the join now button at the bottom of the box.
On the next screen that pulls up, enter your name and where you work, and then click create profile. After entering some basic information, you'll enter information and click through several different screens as you complete the profile. There are five basic areas of information to fill out: experience, education, photo, skills and expertise, and details.
Keep in mind that this will be the first impression that many people will have of you, so you need to make it stand out in all the best ways.
What to Include in Your Profile
Experiences—in this section, add your job experience. You don't need to list every job you've ever had, but as you try to position yourself as a B2B tech leader, make sure you add every job that shows your expertise in the industry. This might also be a good place to include any volunteer experience you have that applies to your career goals or company promotion goals. (If you prefer, you can add another profile section later to separate your volunteer experience from your work experience. If you choose to do this, keep it relevant to your career and company goals, and write it in a way that makes you shine.)
Education

—Formal education history such as university degrees should go here. If you have any conferences, individual courses or specialized training in your industry that will make you stand out, add them here, as well. As with items in the Experience section, make sure they're relevant to what you want to accomplish.

Professional photo

—Out of all the elements of your profile, this could be the most important.

A professional photo makes you 14 times as likely to be found on LinkedIn.

Professional headline

—LinkedIn populates your personal headline with your job title and current company. You can change this to something that will pique the curiosity of people who might see your profile, but remember to target it to the audience you want to impress. As a B2B tech leader, aim to draw in people who can help generate leads.

Use the URLs

—You can add up to three URLs to link back to online portfolios, work-related blogs, or personal (but professional) websites that will help position you as a B2B tech leader.

Skills and Endorsements

—in the skills section, list your skills and ask for endorsements from colleagues. Then ask a handful of people who've worked with you to provide recommendations. Try to get at least five recommendations on your profile in the beginning. These make a big difference in the impact your first impression makes on new readers.

Details

—Details that you add while setting up your profile show up as bullet points under your job experience.

Join Groups

—as you fill out your profile, take a moment to join one or two groups that look like a good fit for your company and your career goals.

Fill out your Summary

—unless you move it, the summary section will show up right under your profile picture. Take the necessary time to create a summary that showcases your abilities as a B2B tech leader.
How to Write your Summary
Write your summary in first person and in simple language. Make it personable, but keep it professional. Busy professionals skimming through your profile should feel like they've met someone they could carry on a great conversation with.
While you write, keep your target audience in mind. As a B2B tech leader, you'll want to appeal to people in technology and in business management positions. What kinds of things would you talk about with them if they sat across the table from you? If you can, phrase your summary the same way you would when talking with them face to face.
Include around six of your biggest achievements that relate to your abilities as a tech leader.
Once your profile is complete, you can edit it as you go along, adding more sections or details as needed.
2) Tips for posting on LinkedIn
LinkedIn is four times more likely to gather business-related traffic and send it to a company website than other social media accounts. For a B2B tech company, that makes creating LinkedIn posts that catch the eyes of potential leads all the more important. You'll need to know what to post, when to post, and how often to post.
As you prepare to write your first articles, investigate some of the tools that can propel your ideas into industry conversations. A successful Linkedin B2B lead generation marketing strategy can utilize hashtags, tagging people and companies that you want to engage, creating long-form posts with useful tips, and posting short videos.
Hashtags
Although the #hashtag originated on Twitter, its popularity has spread across social media platforms, including LinkedIn.

Hashtags are useful for inbound marketers because they categorize specific keywords that potential clients can search for. An article or post with a hashtag will surface with other posts using the same hashtag on social media platforms.
For a B2B tech company, using hashtags to become part of relevant industry conversations can be useful for lead generation. However, limit the number of hashtags you use to two or three per post. Using more hashtags than that can be annoying to readers and actually drive down views.
It's also important to research the hashtags you use to make sure they'll help you achieve your goals.
Tagging people and companies
When LinkedIn added a tagging option to its group features, it upped the chances that companies could get the attention of specific people or businesses they want to engage.
To @tag someone in a LinkedIn group discussion, simply type @ and then the name of the person or company whose attention you'd like to get. They'll get a notification that they've been tagged, and they'll most likely respond.
Long-form posts with useful tips
Inbound marketing relies on drawing new clients to you. One way a B2B tech company can do this is to write long-form posts that include useful tips. For the best impact, the posts should be 800-2000 words long. Posting twice a week on LinkedIn is recommended by some professionals.
The biggest advantage that long-form posts provide on sites like LinkedIn is the potential to be seen as a thought leader. In the competitive B2B tech world, being a thought leader means people know who you are. Because they grow to trust you through your long-form posts, potential clients will think of your company when they're looking for tech solutions for their own businesses.
Short videos
On LinkedIn, companies can post short videos on the products and services sections of their company profiles. They're set up easily by pasting a YouTube video URL in the correct spot, and they're free to use.
Short videos can also be used as posts from personal LinkedIn pages. Asking employees to share a company video on their personal LinkedIn sites can significantly boost company visibility.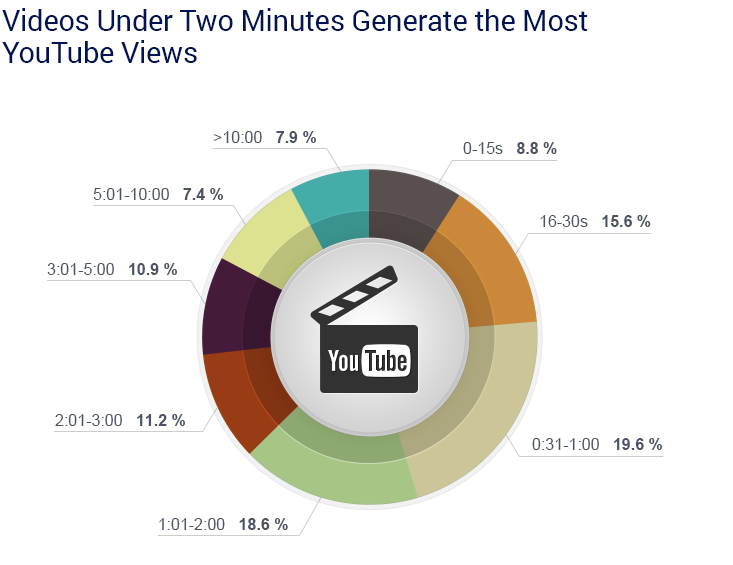 Use Slideshare
mbed a Slideshare presentation in a blog post. Since Slideshare has a wide viewing audience and can be optimized for search engines, it can boost a post's rank over more traditional posts.
Watch: How to Use LinkedIn to Generate Leads as a B2B Company
3) Blogging on LinkedIn
On LinkedIn, it takes about ten articles to get one conversion. This means ten articles that spark conversations and curiosity. The more ideas you ignite with your content, the more likeminded business people will be drawn to your posts—and to your company.
Writing Your First Article on LinkedIn
Getting started is fairly simple. To write an article on LinkedIn, log in and look for the white space near the center top of the page that says share an article, photo, video or idea. Click on the pencil icon. This opens up your blog window, a clear writing space with a simple menu.

In the blue section below the toolbar, there are two icons and a plus symbol for adding a cover image for your blog. As this can become part of your brand, select something that represents your company and the message you want to send to other people.There are header options (normal through header 5) in the menu bar, as well as bullet points and numbers for lists, a hyperlink insertion tool, and a quotes tool to make any quotations you use stand out. You'll also find the standard bold, italic and underline options for changing up the text.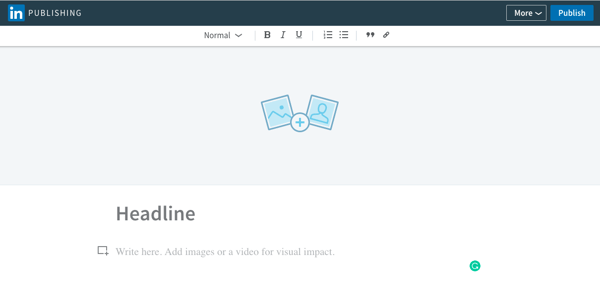 Your headline goes below the blue rectangle. The white screen at the bottom of the window is where you'll write the text of the article. If you click on the icon that says Write Here, another toolbar pops up that gives you options for inserting photos, videos, snippets, links, and slides. Clicking the X on the left of the toolbar will close it so you can continue writing text.

In the top right-hand corner of the page, you'll also find a More drop-down menu that allows you to see your current drafts and articles you've already published. You can also start a new article from that menu or access the help center.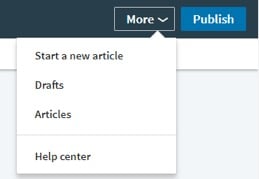 Once you begin, aim to get five to ten articles out quickly. Having at least this many posts can boost your credibility.
All in all, it's a simple structure that's easy to use. Open the window, write, add some media, and hit publish.
Writing Content that Ignites Conversation
There's a lot of competition for blogs on LinkedIn—more than three million long-form articles are published there, and 100,000 new articles are published on LinkedIn every week. You'll want your blog to stand out.
The headline you write is critical. If there's a place to combine brevity, clarity, and accuracy, it's here.
The news feed can only show so much, so you'll want to craft a concise headline that will intrigue potential readers and give them a reason to click through to the text. Pairing a punchy headline with a compelling image ups your chances of getting readers and shares.
The frequency and length of posts matters, too. Articles should be at least 300 words long, but remember that most readers are busy professionals who won't want to invest too much time—unless, of course, your content is that good. Most of the time, try to keep your articles to around 1000 words. Multiple postings spread throughout the day have the highest chances of reaching readers.
You also have to consider the content itself. What you have to say should matter, not just to your company, but to industry leaders and potential buyers. Consider the following ideas:
Make sure the content is relevant to other conversations going on in the industry. If people are already talking about something, offering a fresh viewpoint can promote your company image and display its potential for finding out-of-the-box solutions. For ideas, check out the

What people are talking about now

box on the right side of your home page—you might find an industry conversation already in progress or an idea you can incorporate into one.

Strike up a new conversation. Look beyond industry trends to the causes behind them, or look ahead with pertinent questions about where the industry is headed. For an article like this,

consider getting the opinion of an industry influencer, or maybe even a full Q&A-style interview

.

Discuss action plans. It's always a good idea to include action words in your posts because they're packed with emotion and power. What better way to embed your company's brand in the mind of potential leads? If you can get them thinking while they're feeling the adrenaline rush these kinds of words inspire, you'll be memorable.

Try to get your posts featured on one of LinkedIn's 42 channels. If your post is displayed on a channel that's consistent with your company's vision and is read by influential people in your industry, you'll have a chance at drawing reader attention to your company's brand.

Write simply. It's easy to get caught up in industry jargon, but the widest-read posts are written so that 11 year-olds can read them.
Content: Posting Beyond Articles
A good strategy for creating multiple posts throughout the day is to take advantage of all three of the posting options. Besides articles, post a quick update with a photo or a video that explains what you're up to and why it's important to the industry.
When you post a video or image, use the text function at the top to add information or @mentions to people you particularly want to spark a conversation with. You can also change the post settings to gain the widest possible audience from the drop-down menu at the bottom of the window.
Also consider using the write an article option to create a very short post with questions, hashtags, and links back to an article you'd really like people to see.
Content can be included in comments, too, so don't forget to engage with people who comment on your posts. It's an effective way of driving up views.
Ultimately, writing and posting great content is part of the lead-generation process. When you engage your audience, you increase your chances are of pulling in business.
4) Best Practices for Building and Managing a LinkedIn Company Profile
Once you have a personal LinkedIn profile, you can add a company page.
Set Up your Company Profile
Begin by clicking the work icon on the upper right-hand side of the page. It looks like this:
The next step is to enter your company name, and then you'll choose a URL. Verify that you have the right to set up the page, click the create button, and move to the welcome screen, where you can start building the profile.
Optimize your Company Profile
As with your personal LinkedIn page, do what you can to make your company profile stand out.
Add an exceptional photo that accurately depicts your brand and the message you want to send to potential leads.
In the products and services tab, include descriptions, links to, and explanations of the products and services you sell. List them in order of importance.
Ask for reviews on your products and services from LinkedIn members. These reviews show up as written testimonials, and they can be used on company websites as well as being featured on the LinkedIn company page.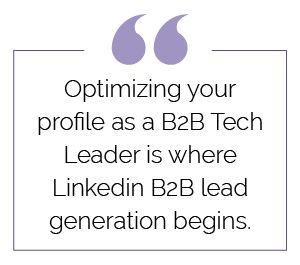 Write a great summary. Your summary can be anywhere from 250-2,500 characters, including spaces. Focus on shared interests within your industry and on building trust with like-minded people. Once you build trust, you can work together with others to advance your shared interests—such as building business partnerships and generating leads.
In your summary, list five or six significant company accomplishments, and add in volunteer service to show your company is aware of communities and individuals.
Create your first blog posts. Aim for five to ten quality posts at first, and add to them later.
Utilize Slideshare. When you write your first company blog posts, consider embedding Slideshare presentations to help explain why the industry needs your business. Slideshare is one of the 200 most visited sites in the world, and it gets 60 million views a month. It can also be optimized for specific keywords, which can cause the blog post to outrank more traditional posts on the same topic.
Share the company page with employees. If they have personal LinkedIn accounts, ask them to identify with the company page. They'll then show up as employees on your company page, which means visitors can connect with them. This can generate more talk about your company and ultimately bring in leads.
Add additional administrators to the page, including key employees. They'll feel more engaged with the company's success, and it will spread the responsibility to promote the company across a broader human resource network.
Manage your Company Profile
To reach a target market, you have to understand the platform you're using and how to behave there. The most effective discussions on LinkedIn are built on mutual trust.
One way to build trust between your company and others in the industry is by participating in discussions already happening on LinkedIn. While the Top Contributor feature in LinkedIn Groups has been discontinued, you can still watch out for industry influencers and engage them when you can.
Monitor group conversations and provide useful input. Comment regularly on the posts of people who seem respected in the group. Avoid simply sharing articles from your company blog. Instead, share information from third parties that can spark a conversation and position your company as thoughtful, aware and cooperative.
Get involved in LinkedIn's influencer program. Aim to write articles that LinkedIn will pick up to promote, but don't wait to get involved. Start commenting on the posts of LinkedIn influencers in your industry and engage with other people who comment there.
5) Making the Most of LinkedIn Groups
LinkedIn Groups are one of the most useful tools for a B2B tech company, especially when it comes to generating leads through inbound marketing.
This tool works for B2B tech leaders because, in groups, people talk to each other. They share ideas. It's a never-ending networking event held online that allows companies to watch for trends and join in pertinent discussions.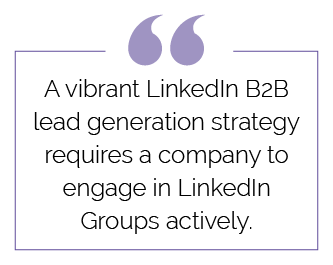 In order to grow your business, you need to connect with your buyers. LinkedIn Groups are great places to meet people, talk about industry problems, discuss solutions and build relationships that can generate leads.
A vibrant LinkedIn B2B lead generation strategy requires a company to engage in LinkedIn Groups actively. That can be challenging because LinkedIn has over 1.5 million groups to choose from.
Finding the right groups
The first thing to do is decide who the target buyer is for your product or service. A good inbound marketing plan should specifically address the kinds of questions that a buyer might bring up. Once that strategy is in place, it becomes easier to identify potential groups that your company should participate in.
Each profile can join up to 50 groups.

"We have to know the buyer profile. We have to know who we're talking to. We also have to know what problems they're having, because those are the problems we're going to be providing helpful information for."—Matt Traylor, Innovative Marketing Resources
An easy method to search for groups that fit your buyer profile is to search for them by keyword. Once you see a group that might work, dig deeper. Look at the statistics for the group—how many people are in the group? How many active conversations are there? Look at the demographics, too—if the group is filled with salespeople rather than industry professionals, you might get a lot of sales spam rather than good niche-specific conversation to draw people to your company.
It's also important to look at the rules of the group. If the group doesn't allow links to be posted in the discussions, don't do it—you'll be labeled as a spammer. One exception is occasionally linking back to a blog post that thoroughly answers a question someone had during the discussion.
Groups with no links are the highest quality groups for discussions. Company representatives shouldn't worry about not being able to link back to a website or blog post, because people who appreciate the conversation will want to connect with you and learn more. When they do, they'll see the company page and other links that can stimulate even more talk and generate leads.
A final way to find groups that might interest you is to decide who your dream client would be. Once you've found your dream client's profile on LinkedIn, research the profile for helpful demographics and skim to the bottom, where the groups this person participates in are listed. It's a good bet some of those groups will be ones you'll want to spend time in, as well.
Tips for creating solid LinkedIn campaigns
Write good content — a solid blog post with significance for your industry, and write an intriguing headline in the form of a question that can ignite discussion. You'll be forming a campaign around this blog post.

Create several messages around the blog post. Write enough of them to last a few months, spread out over several social media channels as well as time. Some of them should be personal messages that you'll send out automatically.

Use an automation tool like Octopost to schedule when the non-personal posts will go out and who they will be sent to. Remember not to automate posts to groups that don't allow links.

There should be a separate message for profiles and groups because an individual will react to a new message or post differently than a group will.

Make sure you're not sending the same message to several groups at once — send out only one post at a time.

Use all the messages over the course of the campaign.

If your automation tool has a social inbox like Octopost does, use it to track and respond to the conversations your posts initiate. The more you engage, the more likely you are to build relationships and draw in potential buyers.
Keep an eye on changes
Occasionally, changes in the way a social platform like LinkedIn works can shake things up in your social media marketing plan. LinkedIn changed many of its group features to help cut back on spam and make using groups more effective. If something changes, watch the trends on group discussions as well as your LinkedIn analytics to determine how your company will be affected.
Sometimes it's worthwhile for a B2B tech company to create a new group. If a good discussion group gets too spammy, for example. You might also be able to use a new group to establish your business as an industry leader.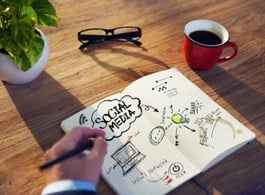 6) Which LinkedIn membership level is best for B2B tech companies
There are several different LinkedIn packages. Finding the one that best fits your company's needs and budget can take a little introspection.
The first tier is the free package, which is offered to everyone who signs up to LinkedIn. This is a very basic package, and while it can be helpful for keeping in touch with a network of coworkers and business friends, it doesn't have many features that a business would use.
For that, you need to upgrade to a premium package. That means more features to look at and compare.
There are premium career packages available for job seekers, but a B2B company interested in generating business leads will get the most out of a Premium Business account or a Sales Navigator account.
These cost $59.99 per month and $79.99 per month, respectively, although they are most often billed annually.
Both plans come with an advanced search option, which can help you look for targeted leads. Both also come with unlimited searches within your extended network and with increased InMail possibilities. This makes it easier to reach out to potential leads.
The Premium Business package is strong when it comes to getting a company noticed and in starting to track industry insights, and it's decent for lead generation for a smaller company looking to grow. The Sales Navigator package is more powerful when it comes to lead generation because it offers lead lists and lead recommendations.
There are different levels within the Sales Navigator packages, as well—professional, team, and enterprise. The team level allows a business to integrate leads with a CRM and save up to 5,000 leads.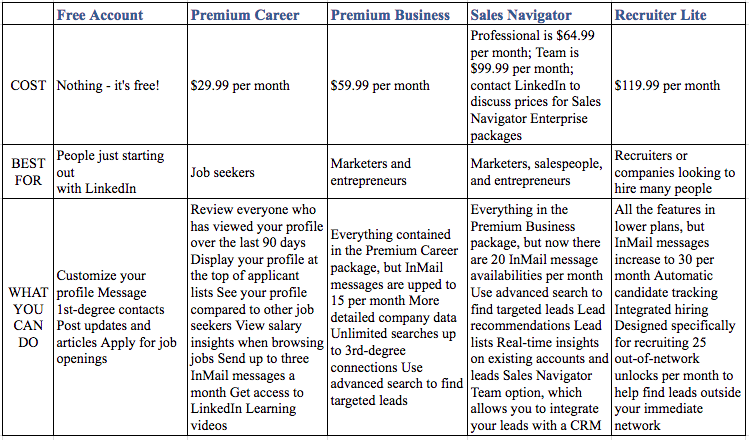 One general recommendation about upgrading to LinkedIn Business or LinkedIn Sales Navigator/Sales Navigator Team is not to rush into a purchasing decision. It's a good idea to slow down, make sure you're already using all the tools in the plan you have and plan a strategy for how you'll use further features if you do upgrade.
Basically, get just what you'll use. You can upgrade again later when you're ready for more power.
7) Advertising on LinkedIn
Organic company updates can only take a B2B tech company so far. Sometimes, as part of a LinkedIn marketing strategy, paid advertising helps increase traffic and the possibility of getting leads. This means instead of the audience choosing your company; your company can choose the audience.
Before you get started with a paid advertising campaign, make sure your company profile page is optimized. Include showcase pages for the products and services you most want to promote, so that when new traffic arrives on your page, you'll be ready. Then choose which of the following paid services you'd like to use.
Sponsored Content
Sponsored content is a paid boost for increased visibility. It begins as organic posts on your company page that show up in the feed of your followers.
When you feel like it's time to reach beyond the people who ordinarily see your posts, you can pay for the best pieces to become sponsored content. Choose articles that are already popular with your organic followers and narrow your choices from there.
To generate leads, sponsored content should have a call to action or a gated component like a webinar that new readers can sign up for. You should always target your widest possible audience.
Once you're ready to go, your pages will be distributed on the feed or other pages of the LinkedIn members you're targeting. When they click back to your site, the content will show up as company updates on your company profile or showcase pages.
Direct Sponsored Content
Direct sponsored content is an expansion of sponsored content.
With direct sponsored content, posts won't be published on the company page to be a part of a campaign, and companies can personalize or tweak the content. This allows them to test and retest the content they use until they're satisfied with the results. The tests won't be sent to followers, only to the specific target audience the company chooses.
Both sponsored content and direct sponsored content ads are created by the advertiser in LinkedIn's campaign manager.
Text Ads
Text ads make up LinkedIn's self-service Pay-Per-Click advertising program. Like the other advertising options, companies can choose which audiences to target. The company creates its own ads, sets its budget and pays only for the ads that result in clicks or impressions.
Sponsored InMail
Sponsored InMail is an e-mail marketing campaign just for LinkedIn. Companies using sponsored InMail can direct personalized messages with no limits on character counts, such as invitations to webinars or other events, to targeted audiences. Campaigns are quick to set up and launch. As with other LinkedIn advertising services, companies set their own budget.
LinkedIn Retargeting and Other Matched Audience Tools
LinkedIn Retargeting is a handy tool that allows companies to retarget people who are members of LinkedIn but have also visited the company's website. This is done by installing the LinkedIn Insight Tag to their website, which then matches visitors on the website with people on LinkedIn.
Once you have that data, you can send personalized or targeted messages through LinkedIn using the advertising capabilities above.
LinkedIn also offers Account Targeting, which matches people your company already has accounts for with LinkedIn Members, and contact targeting, which matches LinkedIn members to your contact list.
Similarities and Differences in LinkedIn Marketing Campaigns
All of the campaigns originating on LinkedIn are self-service programs run through LinkedIn's campaign manager. On campaign manager, the person in charge of the campaign names it, sets a budget and a target audience and gets it going.
To use campaign manager, a person needs to have a LinkedIn account and a credit card.
The main differences between the advertising programs are how the advertising content is delivered and its marketing purpose. Here's a quick run-down:
The advertising programs differ from the target/retarget tools, too. The target/retarget tools simply match databases so that LinkedIn campaigns can be targeted more effectively.
Display ads can be run on LinkedIn, but these have to be set up through an outside advertising source.
8) Aligning Sales and Marketing on LinkedIn
In any company, getting sales and marketing to work hand in hand can be more challenging than it sounds.
Why Align Sales and Marketing
Marketing is practiced with the intent to generate leads, and sales departments are meant to convert those leads into clients. Getting the two to work more as a team than as separate company entities can improve the efficiency of finding new clients.
One way to do this is to look at where both teams fall in the sales funnel. Goals and action plans can be created where they overlap that allow them to work together to find and close sales.
For example, as more customers do research online before making a purchasing decision, sales teams can let marketing teams know what kind of content they need to create. Then the sales teams can direct potential clients to that content and use it to close the sale.
Using LinkedIn Features for Aligning Sales and Marketing
A B2B tech company can utilize some of the features of LinkedIn to help align sales and marketing teams.
For it to work well, B2B sales teams have to be aware of the kinds of situations they will face when trying to close a sale. This means they need to know what the target businesses are and the kinds of situations they face moving forward in the industry. Using the filters in LinkedIn's search option to find relevant prospects is a good place to start.
Once the salespeople have identified relevant prospects, they can look at demographics, analytics, and prospect's posted content and comments to determine what the prospect's needs are, and how the company can fill those needs.
This lays the basis for creating content that will generate and convert leads. Marketing can use the information that salespeople gather to create impactful connection messages and follow-up messages for each prospect.
If the salespeople discover an industry trend while looking for prospects this way, marketing can create inbound marketing content to draw more prospects to the LinkedIn company profile page and website.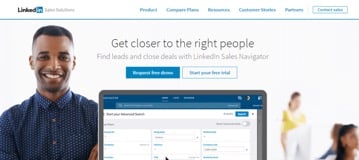 Using the filters on LinkedIn's search option is free, but for companies who are looking for more dramatic growth, using the paid LinkedIn Sales Navigator might be something to consider. It has advanced search options and the ability to save lists of target accounts and leads. There are also more sales insights and the ability to use your entire network to help reach out to prospects beyond company connections.
Pricing of sales packages and comparison to other LinkedIn packages are discussed in more detail in Chapter Seven.
9) Understanding LinkedIn Analytics
A major part of knowing how to tweak your LinkedIn marketing strategy is paying attention to what works and what doesn't. For that, you have to consider the statistics and watch the followers, shares, clicks, and impressions.
Why Use Analytics
The main reason to watch trends and statistics is to understand your target audience. If something changes in their viewing patterns, will that impact their likelihood to purchase something from your company?
A downturn in engagement on a specific platform might mean the way you promote your company has to change. Perhaps more curated content can be shared, or maybe your company will do better engaging in groups that have fewer people posting spam comments.
Understanding LinkedIn and how to use it to interact with other members positively is a key to managing your LinkedIn marketing strategy. Social media is always changing, which means understanding it means keeping a close eye on it, reacting well to the change by adjusting tactics when necessary, and generally behaving well in an online professional setting.
Tracking analytics on a LinkedIn Company Page
Company page analytics include updates, followers, and visitors, and there are a number of statistics gathered for each one.
Updates
Statistics for updates are gathered in a table showing the first few words of the post, the date it was published, and whether or not it was a sponsored campaign. You can see whether the update was sent to all audience members or to a target audience, as well as the number of clicks, impressions, interactions, and followers that you gained because of this update.
There's also an engagement percentage that shows the total of interactions, clicks, and followers acquired, divided by the number of impressions. Reach is shown on a graph depicting the number of daily clicks for both paid and unpaid campaigns.
Followers
Besides the total number of people following your company page, you can see how many followers you acquired organically and how many came from sponsored content or company follow ads.
You can also take a look at follower demographics, including seniority, industry, job function, company size, and more.
Follower Trends allows you to see how the number of your followers has changed over time and the How I Compare feature shows the number of your followers compared to other companies.
Visitors
Visitors are tracked with a graph showing the number of daily views for your company page, as well as career page clicks, unique visitor clicks (also in a graph form), and visitor demographics.
Why a LinkedIn strategy is necessary for B2B tech companies
"The quality of leads coming from LinkedIn is higher than anything else we're doing."—Max Traylor, Innovative Marketing Resources
One of the main reasons to use LinkedIn as a marketing strategy for B2B tech companies is because of the lead generation that happens in LinkedIn Groups. It's all in the discussions, and in the relationships, you build with other members of your industry.
Providing thoughtful content and promoting it across LinkedIn profiles and groups in a successful campaign can set you up as a thought leader. People who search for solutions in group discussions are likely to remember you and your company. They'll come looking for you when they have questions.
Some will come to you wanting to buy your products and services. In the end, that's what you're aiming for.