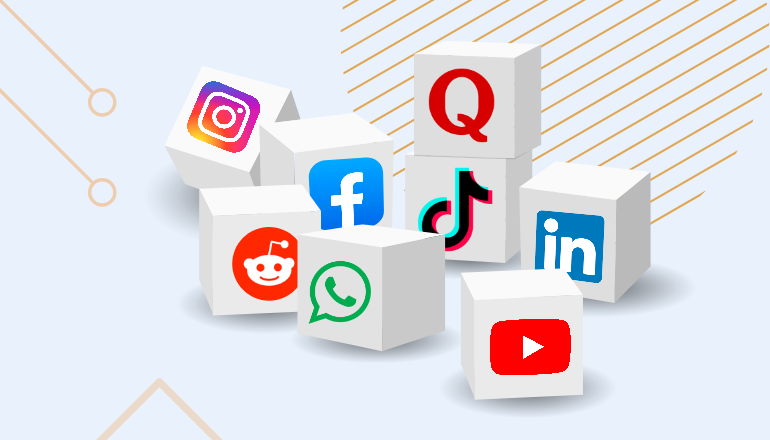 In 2020, Penguin Strategies published a blog post on 68 Social Media Facts and Stats that will Blow Your Mind, and we must have achieved our aim of blowing your mind, since to date it is still our most read blog post each month🏆. But since so much has changed, it's time to update the 68 social media facts with stats for 2023.
But first, a question: Do you know on which channels your B2B buyers are hanging out?
And second, a caveat: In compiling these stats, we discovered that the Internet is full of figures that look great but are either unsubstantiated or flat-out prehistoric. (2014, really?) So we worked hard to present you with this clean, relevant list of 55 social media facts and stats.
Let's start with the (current) king of B2B social.
LinkedIn
Just when we thought that all the 40-60 year old execs are on LinkedIn, we discovered that 59.1% of LinkedIn's users are aged 25 to 34 years. Despite all the new channels, millennials and Gen Yers can still be reached on LinkedIn. Take that TikTok!
LinkedIn, by the way, turns 20 years old in 2023!!!
Pro-Tip: Spacing organic posts at least 18 hours apart maximizes impressions. (Multiple posts within 18 hours negatively affect the growth of them all.)
WhatsApp
According to a Hootsuite report, WhatsApp rates as the top social media channel for Internet users ages 16-64! What does that mean for marketers? It means that a lot of content is being shared through this free channel and it cannot be traced or attributed. This is what is referred to as dark social or dark funnel. Read about our first-hand insights on dark social.
HubSpot also recently rolled out a WhatsApp integration which goes to show the importance of this channel for marketers.
WhatsApp is the

#1 social media platform

for Internet users ages 16-64.

WhatsApp Business App is free and allows you access through one smartphone or PC.

If you need higher volumes of mes

sages, there is a WhatsApp API (at a cost).

WhatsApp messages have an almost immediate open rate of over 80%.
Pro Tip: Marketing through WhatsApp is going to skyrocket in 2023, especially with the introduction of Communities in November, 2022.
TikTok
As expected, 18-24 year-olds love TikTok. However, over 50% of TikTok-ers are older than 30. More important, in ten years, over 70% of the workforce will be millennials … and so you had better start building your brand, voice and personality on TikTok now so that when the time comes, you are already known to your target audience. . . whether they be job-seekers or potential customers. Read more about reaching this audience now in our blog.
"It's estimated that in 10 years, more than 70 percent of the workforce will be millennials." -Ross Simmonds
More than 50% of users ages 30+.

Eight new users join TikTok every second, which makes it the fastest growing social media platform in the world. Read that again: 8 new users every second!
67% of users say they are inspired to shop when scrolling through TikTok, even if they weren't planning on shopping. 🤯
TikTok offers a brand lift study on your audiences' reactions to your ads
TikTok users are 1.5x more likely to immediately go out and buy something they discovered on the platform.
YouTube
YouTube is the second most popular search engine, and while video is always a great tool for paid marketing (think about retargeting to those who watched more than a certain percentage of your videos), you should not forget about organic videos on your YouTube channel.
60% of video marketers rate engagement as the most important metric to watch. (Considering dark social and demand gen can not be "watched," i.e. tracked, it makes sense that engagement would be the most important metric.)

500+ marketers ranked YouTube second highest in engagement rates.

According to YouTube, viewers say they're twice as likely to buy something they saw on YouTube (versus the competitive average.)

77% of Internet users aged 15-35 are on YouTube.

So are:
73% of users aged 36-45

70% of users aged 46-55 and

67% of users aged 56+.
22% of marketers include YouTube Stories in their strategy. (YouTube Stories is the platform's answer to TikTok and Instagram Reels.)

According to HubSpot's CMO, Kipp Bodnar, video creation continues to be a huge, huge opportunity.
Instagram
The Generation X in me wants to ignore this channel as it conjures up images of teens applying makeup and filtering their images to make them appear perfect, but, truth be told, smart businesses are leveraging this platform.
Users spend 30 minutes per day on Instagram.

80% of users follow a Business on Instagram.

Instagram Stories was built to help brands connect with their followers with videos and slideshows that disappear after 24 hours.

58% of people said their interest in a brand/product grew after seeing it in Stories.
Pro Tip: Since Instagram is all about visuals, it is a great platform for brand awareness campaigns.
Twitter
Introduced after Facebook and Linkedin but before YouTube, the limited character count channel has almost 4 million users globally. As of this writing, it's yet to be determined whether Elon Musk can get Twitter back on its feet, but we predict Twitter will remain an important marketing channel—and not just a bullhorn for politicians.
According to Social Shepherd:
48% of users are on Twitter to get news.

48% to get entertainment.

34% to keep in contact with friends and family.

33% to follow brands/companies ⬅️ This is the audience that marketers need to capture.

14% to strengthen their professional network.

12% for other purposes.
Facebook
Facebook was not the first social media channel, but it is one of the oldest still around. And it is still generating gobs of interest – and money.
26.4% of the platform's user base is made up of millennials while 36% are 45 or older.

In Q3 2022, Facebook had 2.96 billion monthly active users.

98.5% of users access via mobile ( 81.8% do so exclusively).

70% of users visit the site daily, with 49% visiting several times per day.

The average user spends 33 minutes a day on Facebook.

Facebook accounts for 28.9% of ad spending, second to Google and Reddit.

Over 10 million businesses have used Facebook advertising, the majority of which are small to medium-sized businesses.
Reddit
Reddit was born the year after Facebook as a news aggregation, content rating, and discussion website. It's home to thousands of communities and endless conversations. I know, I've been down the rabbit hole.
49% of all Reddit users are in the US.

Germany has the fourth largest user base globally.

Reddit users are called Redditors.

Topics are broken into subreddits.

People on Reddit make 9x faster purchase decisions and spend 15% more than others.
Pro Tip: Avoid advertising, selling and self-promotion and be sure to follow each subreddit's rules. Reddit is a community and you're going to need to invest time and energy in gaining the community's attention.
Quora
Research shows that Quora users are an older, more educated group with higher household income than many of the other channels above.
Advertising can be in the form of text ads, image ads or promoted answers (which will then jump to the top of the list of answers to a question).

Quora users are 37% more likely to be in a management position.

Advertising on Quora allows you to reach people who are looking for answers to industry-related questions.

Quora answers are evergreen - which means they will continuously rank for SEO.
Pro Tip: Since Quora is a place where people research (prior to making a purchase), it's an excellent place to reach your target audience based on their interests right when they are in the decision stage.
If you would like help in building or optimizing your social media strategy, contact us.