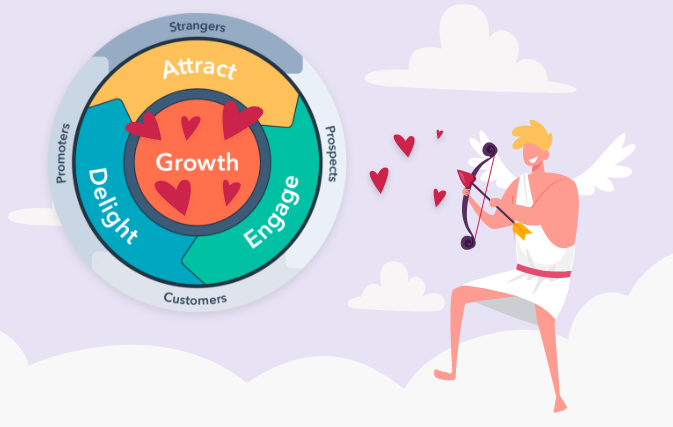 Inbound marketing and dating are more similar than you think. Putting aside the pre-date jitters and figuring out formalities like who will pay the bill, both have the goal of building a strong and lasting relationship and both require the right steps to get there.
With inbound marketing, as with dating, there's a certain science to making sure you don't come on too strong and to keep things interesting until both parties are ready to commit. You might have the best product or service, but if you want to woo potential clients, follow this sequence of events to understand the inbound funnel. Who knows - it might lead to a long-term relationship.
ATTRACT: Stop Standing Alone At The Bar - Start Generating Intros (& Leads)
The first step of the inbound funnel is attraction. Just like looking to meet someone new, you have to find your target personas. Ask yourself: what platforms are your target audiences using? Where are they consuming their content? How can you get in front of them? Once this information is identified, you can ask to take them to dinner...politely. For example, when you find out your ideal lead is a frequent user of Instagram, you'll want to "slide into their DMs" and create targeted ads that will appear in their feed. This will begin the introduction of your brand and give them a taste of what you have to offer.
Play It Cool - Create content that will appeal to them
A key point to remember during this stage is to avoid coming on too strong. At this stage, they most likely know extremely little if not nothing about your brand and your services. Don't bring a diamond ring to the bar and propose to the first person you lock eyes with. This is not the time to send them bottom-of-the-funnel content, like data sheets or sales collateral. You'll need to start slow and educate them about your service and offerings. At this point in the inbound process, our go-to recommendation is a blog. This is a low-stakes offer that can grab their attention and begin to teach them about you.
Ask the Right Questions, Collect the Right Data
Throughout the inbound process, you are constantly collecting data (but your crush has no idea). The data you collect will correlate with their specific stage in the funnel. Keep in mind, you don't ask your crush at the bar about their medical history. Similarly, in the "attract" stage, you'll be asking your lead general questions like their first and last name, their email, and maybe their company. The last thing you want to do is ask for too much information before you've hooked your lead. Asking for something personal (like their budget), before you gain their trust, could completely turn them off and dissuade them from giving their information or continuing down the funnel.
ENGAGE: Getting Personal With Your Leads

The next step in the inbound marketing funnel is to engage. You can think of this stage as the first date. As with meeting someone at a bar, you want to continue to play it cool on the first date. You wouldn't ask for your date's hand in marriage as soon as the bread basket arrives (we hope). Similarly, you would not expect your lead to become a loyal consumer after visiting your website for the first time. At this stage, you would present them with Top-of-the-Funnel content, like a checklist or a beginners guide. This can help them continue to become familiar with your website and business. Like a first date, you'll want to avoid topics that would be too aggressive, like a sales brochure, other Bottom-of-the-Funnel content, or an invitation to speak with your team.
Think: What questions would you ask on the first date? Find out what they are interested in, how you could help them reach their goals, and if your businesses would work well together.
Once you've identified that you and your "lead" are interested, you want to get to know them better. Naturally, you inquire: "What do you like to do for fun? What are your interests?" During this stage, ideal questions you'll want to ask your lead could range from their job title, company size, and annual revenue. (see: B2B content marketing tactics) If you find similarities and common ground, it's worth asking to see them again, AKA: "Would you like to subscribe to our emails?"
Thus begins the courting stage. Dinner once a week and meeting the best friends becomes equivalent to consistent emails and touch bases that keep your lead warm. As you get to know your lead better over time, you can continue to provide valuable information and gain more insight into what they are interested in, the goals they have, and how your business can help them reach those goals. You can begin to send more information that would be relevant to their goals in the form of white papers, ebooks, and webinars. This will help grow their knowledge of your services so they are fully prepared to continue down the funnel. This also ensures there are no surprises lurking when they are ready to seal the deal. At this stage, the ideal end result is that you have converted your lead into a Marketing Qualified Lead.
CLOSE: Turning Leads To Sales

As you reach the closing stage, you become more familiar with your potential lead and even more confident in the potential to do business with them. At this point in our dating analogy, you have met the parents and passed with flying colors. You've made the decision to buy a ring and are just waiting for the right moment (which is any day now). You've learned all you can about the other person, and you've both decided to stick around. In parallel, your lead has educated themselves with content (that you have so graciously provided) ranging from case studies and testimonials to data sheets and product FAQs. At this stage, they have likely made the decision to do business with you.
At this stage, you will begin working with your sales team more closely to help you seal the deal. Marketing and sales work extremely closely during this stage and will need to communicate effectively in order to carry a lead to the finish line (this is what we call - RevOps). Even when the marketing team passes the lead to sales, it's important to continue to provide content that sales can use to fulfill this stage. This content will encourage them, and assure them they've made a smart decision to become a partner or a customer. In other words, it keeps them from getting cold feet before they walk down the aisle.
Just like your relationship and trust grows as you get to know someone over time, so does a relationship with a lead. It's important to keep in mind that the process doesn't happen overnight. Building these relationships can take months or even years before your lead could be ready to make the leap and commit. Once you've "popped the question" and your lead has said "YES!!" you can commence your honeymoon - AKA project scoping and contract negotiations - to finalize your decision to become business partners.
DELIGHT

One of the most important - and most often forgotten - stages of the funnel is to delight. Once your lead has decided to commit to doing business with you, it's essential that you continue to nurture them, just as you did before you were officially working together. The delight stage should include frequent touch bases to learn how your lead is progressing, if the solution is working for them, and if they are seeing results that show a path to success. It can also include additional content that will help them continue to see value in your business, opportunities with your partnership, and relationship building that gains their trust.
Similar to a marriage, if you don't put in the effort to help your partner reach their goals and nurture your relationship, your partner could realize they aren't receiving the benefits they thought they would. They could even go looking for the business value you promised from another source, especially if you have not followed through on your commitment to helping them achieve their goals.
In the delight stage, you want to keep your relationship with your lead healthy and continue to help them reach their goals. If you drop the ball and discontinue the relationship you promised during the previous stages, it's easy to lose their trust and soon after, their business. This emphasizes why it is so important to find ways to work together in tandem in order to reach a common goal. (the ultimate RevOps Guide)
If you follow the inbound marketing funnel as we have outlined above, we can almost guarantee you will successfully attract, engage, and close leads that will help your business grow. The key is to delight these leads, continue to nurture your relationship with them and identify ways to find mutual success.
Download this infographic to get the full picture of the inbound funnel.