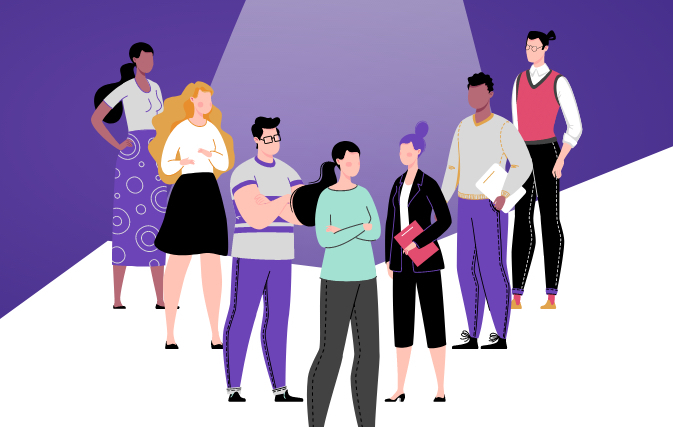 Let's be honest. It's impossible to hit a target if there is no target. This is why it's so important to have a clear picture of your target audience, and that's where buyer personas do the heavy lifting.
What is a Buyer Persona?
Buyer personas are semi-fictional representations of your ideal clients based on existing clients and extensive market research. Ask any copywriter and they'll tell you that it's better to write to a single person than a group.
So how do you write to one person when you have a large audience? Segment your audience and create a single persona for each segment, or create a persona that characterizes your ideal customer. Each persona will paint a clear picture of an individual who represents the larger group.
How many buyer personas you need depends on the size of your business, the amount of products, and the number of markets you sell to. If this is your first time creating personas, start with a few. You can add more later. Here is a free video tutorial on creating buyer personas by our friend Kyle Jepson from HubSpot.
Let's look at a buyer persona example: IT Isabelle. We added alliteration to make the name fun, but right away it alerts you to develop messaging towards somebody who is in IT. However, there is more to a persona than a name. (See the questions below to develop your personas.) Detailed information about your personas will help you create focused and effective campaigns, emails, social media messages, and landing pages — much more so than writing to "everybody."
The Benefits of Good Buyer Personas
Buyer personas offer more than a way to target your messaging, they provide structure and context for your company. This makes it easier to:
√ map out content
√ allocate your team's time and resources
. √ achieve alignment across your organization
With a deep understanding of your buyer personas, you will have an edge on content creation, product development, sales follow up, and anything else that relates to customer acquisition and retention.
HubSpot's Persona Creator
HubSpot's free "Make My Persona" tool helps you create well-defined and fully-fleshed-out (pun intended) personas in a step-by-step process.


HubSpot even provides tips and explanations if you need help filling in the properties, and helps you identify important pieces of information that are often overlooked. For instance, your persona's aptitude towards social media use.
If you are already on HubSpot, you can access the tool within your account and begin categorizing your contacts and targeting them.
Before you start creating your personas, you'll need some information.
Let's Define Your Buyer Persona
Start with these questions for a single buyer persona:
What is their job role or title?
What is this person's goal or challenge?
What does it mean to be successful in their role?
Which publications or blogs do they read?
How do they prefer to interact with vendors?
What does a typical day look like?
Here are more questions to help you develop your buyer personas.
Now the demographics:
What is this person's age range?
How to Gather the Information
Gathering information can be tedious, but it's worth it because you will create a more accurate buyer persona. Here are five ways to get started:
Check your contacts database for trends on how certain leads or customers find and consume your content.
Interview customers and brand advocates to gain an insight into why they love your product.
Survey customers to discover the key challenges they face in their day-to-day lives.
Derive demographic and behavioral information from Google Analytics and social media insights.
Talk to your sales team. Find out what gets their favorite customers excited and what makes them frustrated.
Creating the Personas on HubSpot:
Now it's time to use your research to create your buyer personas. Within HubSpot, follow this path:
Settings --> properties --> search "persona" and select the persona property --> click "add new persona" and follow the steps.
If you are not yet on HubSpot, use this buyer persona tool and select "build my persona."
You'll be presented with a series of fields to complete including naming your persona. Some ideas: IT Isabelle, CFO Cathy, Strategic Sam.)
Give your persona a description that characterizes this specific audience segment. Under internal notes you will add some basic core information such as roles, goals and challenges.
You can add a short story about your persona. Try to dramatize the character a bit. Also include information about where they go for information, what they do in their free time, and what their hopes and dreams are. 🙂
The persona should be the hero of their own story.
After filling the fields, you can check the "Automatically create smart lists for this persona" checkbox at the bottom. This will target the segment in their e-mails, workflows, smart content, and more.
Click "Save" to create and save your new persona.
Additional Tips for Using Personas
Build your digital marketing plan or your next campaign based on insights from your personas.
Develop taglines based on your persona's goals and challenges.
Take your personas into brainstorming meetings and ask, "What would CFO Cathy do or need" in this situation.
Develop the personas with your sales team to help them understand who they are selling to and what each persona needs to hear.
Segment tailored emails to your buyer personas with a relevant message that appeals to their interests.
Pin your freshly crafted HubSpot personas to your office wall to remind you of who you are marketing to.
There you go! You can now start working on your personas, and begin personalizing your buyers' journeys. Get a downloadable guide to create your buyer personas.