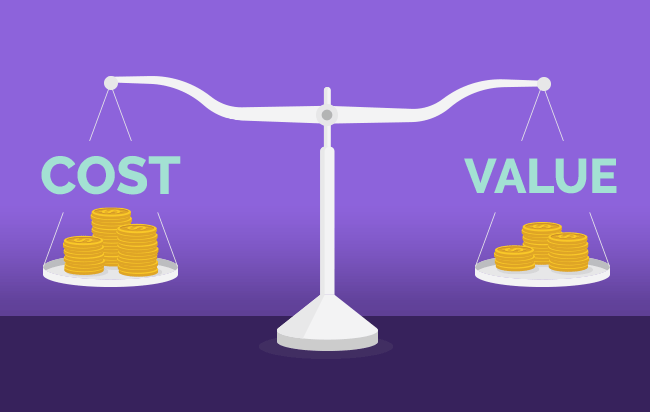 Selling B2B technology has always been about identifying your buyer's problem and then solving it, sometimes even before they realize their need. But B2B buyers are notorious for not reading emails, not answering their phones, and not engaging with vendors until it is absolutely necessary. So what's a marketer to do?
LinkedIn offers marketers the chance to bring their message to their prospects where they're already thinking about business. It offers some of the best targeting available - but it comes at a cost far higher than Twitter, Facebook or Google PPC. To make the leap to LinkedIn ads, you need to ask two questions: Is it worth it? Who do I target?
Is it Worth it for Me?
Because of the price point per click (upwards of $5-$10), the ideal LinkedIn advertiser needs to have a sufficient deal size to justify the cost-per-lead. No matter how precise your targeting or how good your ad copy, only a percentage of your clicks will convert to deals - and you need to consider that math before a significant investment. Let's say you're converting 20% of clicks to subscribers, 10% of those to MQL, 10% of those to SQL and 50% of those to secured business.
At those conversion rates, you're paying $5000 for 5 wins. If your SaaS platform sells for less than $1000/year, your ROI on those ads is in the negative. If, however, your average deal size is $50,000, that's a 4,900% return on your LinkedIn ads. Of course, that does not tell the whole picture of the multiple touches, people, and technologies that come between that first touch and close, but it does emphasize the need for a significant average deal size to justify the investment in LinkedIn.
First Step in Targeting
The philosophy behind LinkedIn targeting is a balance between your goals, your audience and your budget. Within the constraints of your budget, you have to define what your goal of the ad is - and then build your targeting from there.
If you're focused on awareness and competitive positioning, you want to focus on volume. If you're looking for conversions you'll want to focus instead on precision. If you have very little money to commit to the campaign, there are ways to balance between those extremes.
Looking at the chart below, you'll see the relative cost, precision and volume of each type of targeting LinkedIn offers.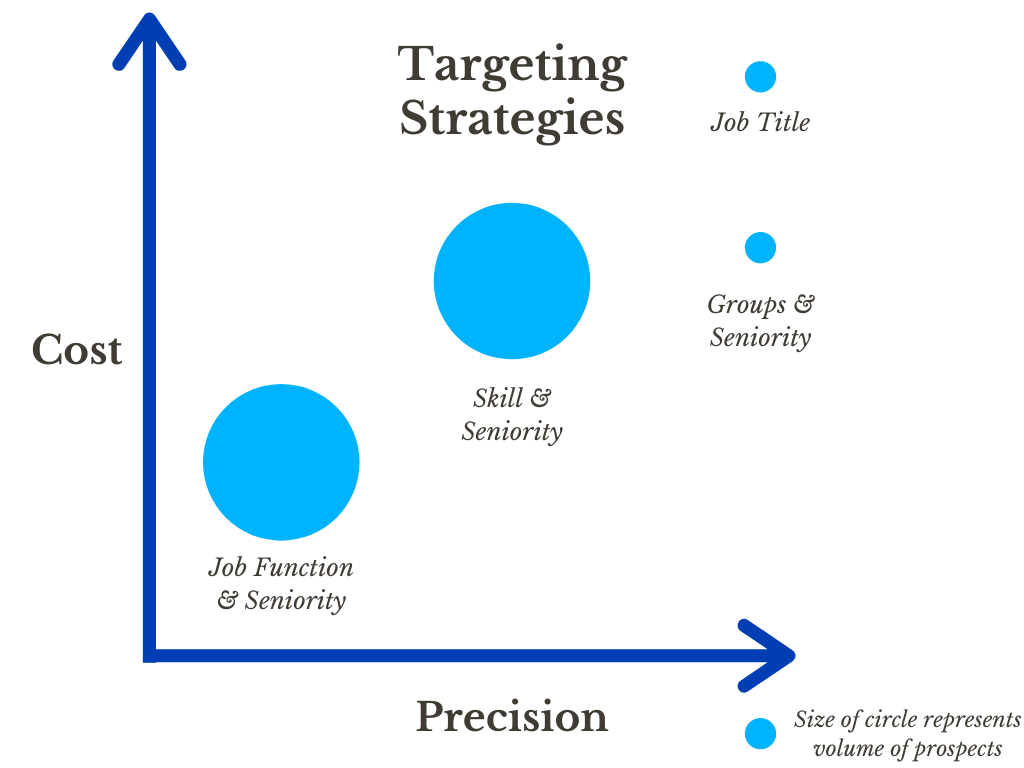 There are tons of other ways to target within LinkedIn - by company, by company size, traditional demographics. There are a few tricks to mention:
Do NOT use Audience Expansion. You'd be paying LinkedIn prices for Google ads - and it's simply not worth it.
We may be marketers but unless we're selling marketing technology, exclude marketing/biz dev/sales when you're creating your targeting. No need for us to talk to ourselves.
If you're targeting company size, it's easier to target SMB's by excluding large companies than the other way around. Often, smaller companies will forget to include their size altogether.
Instead of targeting by age or years of experience, target seniority. It doesn't really matter how old the prospect is - what matters is their buying power.
The Latest in Targeting
Among the outstanding targeting functionality in LinkedIn is their geo-targeting. Updated late last year, LinkedIn now offers over 2.8M global locations, along with better accuracy of cities, counties, and regions. If you need to deliver and install your technology on prem, if your divisions are responsible for marketing to their own territories, this granularity makes sure you're only targeting the people you can sell to.
In our next article, we'll discuss bidding tips, click vs. conversion efficiency, and analytics and testing. Ready to get your LinkedIn campaigns rolling? Penguin can help!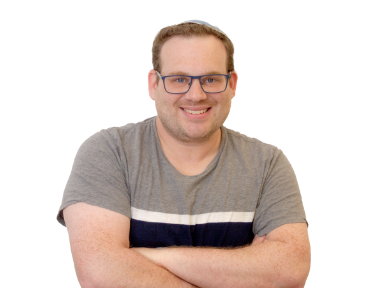 Yoni is our Director of AI marketing solutions and senior marketing strategist. He is certified by the AI Marketing Institute and as a HubSpot trainer. Yoni helps companies adopt generative AI tools in their tech stack and works with AI generated content to produce the ultimate assets in record time. Yoni runs marketing strategy for clients from various industries, including automotive tech, cybersecurity, finance and more. Yoni's not-so-secret marketing secret? Everything in marketing comes down to goals and audience. If you don't know who you're talking to and what you want to achieve, you're shooting in the dark.