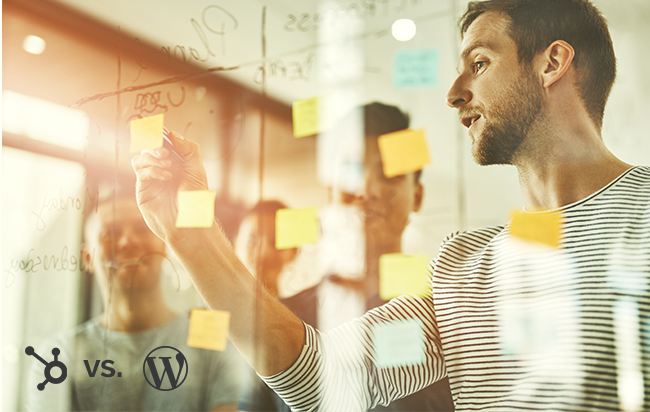 Overview
Comparing WordPress and HubSpot CMS to one another might seem like comparing apples and oranges. After all, WordPress powers an estimated 34% of global websites, while HubSpot is a content management system used primarily by inbound marketers. However, at their core both WordPress and HubSpot are used to deliver content to their users.
Both HubSpot and WordPress make it easy for users to create and share content to drive their inbound marketing engine. They just deliver it in significantly different ways. We know our way around HubSpot pretty thoroughly and we turned to WordPress expert Rebecca Markowitz at Strattic for some insight into WordPress.
WordPress
WordPress began as a blogging platform. It's open-source nature encouraged users to develop plugins, which enhanced its functionality. As developers gained a stronger feel for inbound marketing, they began to develop plugins capable of attracting and engaging customers.
Blogging sits at the heart of the WordPress experience, but its popularity stems from the vast ecosystem of ready-made themes, drag-and-drop website builders, and over 60,000 free plugins that allow non-developers to construct impressive-looking websites that can do everything from a basic site to a full online store. It's ironic that so many WordPress sites today utilize the add-on features of the platform, but don't use its native blogging capabilities.
Once the site is created, the WordPress backend user interface simplifies blog publishing. Plugins allow website owners to track traffic, capture leads, and optimize content for mobile traffic. As Rebecca told us, there are a variety of A/B optimization tools available for WordPress that can help you understand which content tweaks can help boost conversion.
HubSpot CMS
HubSpot CMS was developed as an inbound marketing platform. It contains native abilities to create and manage websites, and optimize the site using data in the CRM. The result is a personalized customer journey that seamlessly delivers the right content to the right user.
Like WordPress, Hubspot CMS users can write, schedule and publish blog posts directly in the system. However, Hubspot does not require the search for additional plugins to optimize posts for SEO or preview content across devices and platforms. Once the site is online, HubSpot CMS uses built-in analytics tools allowing users to measure results.
Hubspot CMS removes the complexities that are inherently part of open-source, multi-developer software by presenting a unified, secure marketing platform that was designed from the ground up to support inbound marketing efforts.
Core Assets
Sitting at the core of the user experience for both HubSpot and WordPress are websites and landing pages. Websites function as the brands' online salesperson, providing today's savvy consumers with the broad strokes of everything they need to know about your product or service before they talk to a salesperson. Landing pages allow brands to deliver in-depth content, register users for events, or provide downloadable content.
Both platforms rely on themes for page creation, have built-in editors, and page-specific CSS. Both platforms also have forms, live chat, and SEO optimization tools. However, HubSpot's platform has those features built in to its system, while WordPress requires users to integrate plugins to add this functionality. Rebecca was quick to note that that integration is often times not arduous, usually requiring only one click to activate.
HubSpot does have one other key advantage over WordPress. Designed to be a marketing tool, the entire platform is built on top of the brands' CRM system. This provides HubSpot sites with some really interesting functionality. Each user's customer experience can be tailored based on their history with the brand. For example, a user who has shown interest in a brand's billing software in the past will see billing-software content when they arrive on the site.
Of course, it is possible to create a personalized experience for web visitors on a WordPress site. However, it requires additional software to bring it all together and could require hiring a web developer to make it all work.
Building Traffic
Websites and landing pages don't naturally attract people to their sites in the same way that say, a picnic attracts ants. You've got to do more than simply create great content to generate a path of steady traffic to your site.
There are numerous techniques you can use to drive traffic to your website or landing page.
SEO, email, marketing automation, social media, and online ads are the primary digital channels, although one could also use SMS marketing, TV or radio spots, or ads in newspapers as well.
SEO, or search engine optimization, relies on using keywords to attract search engine traffic. WordPress doesn't include any native SEO tools, but according to Rebecca, there are a number of popular plugins like Yoast and Rank Math that can be added in one click which can help with SEO optimization. HubSpot, in contrast has SEO optimization built in to every blog, landing page and website that you'll create.
Email and marketing automation are two places where HubSpot really stands out over WordPress. WordPress was never designed to send out email, and so while there are plugins available, WordPress users typically use marketing automation tools created by companies like HubSpot or Mailchimp.
Social media and ads get a lot of press for their ability to connect with billions of online users, but it takes powerful tools to schedule, publish, and monitor social media. HubSpot includes this as part of its professional and enterprise packages, while WordPress requires another set of plugin integrations.
User Experience
We touched on it earlier in this article, but it bears repeating. If you want to deliver a personalized web experience to your users, you need a website that is built on a CRM system.
Your CRM system contains multiple data points about your customers. It knows how frequently they visit your site, which blogs they spend time reading, and which emails they read. Using a lead scoring system, your platform can also recognize where your customer stands on the customer journey.
That information is important when presenting information to a returning web visitor. You want to make sure that they can find the information they are looking for. A dynamically customized site can present relevant blogs, pages, and assets that will help move the customer forward in the sales process.
This type of user experience is a core part of the HubSpot experience. It can also be achieved using WordPress through third-party or custom-written plugins, but it requires integrations and is a potentially costly development to achieve.
Analytics Reporting
Digital marketing allows brands to measure everything, from user clicks to downloads to sales. Using that data, brands can make strategic decisions relating to content, promotion and customer journey. However, that data is only useful if you have the tools in place to capture and present that data.
WordPress offers limited analytics data, such as number of user session, and how frequently a site was accessed. However, if you'd like to dig deeper for a richer data set, Rebecca tells us that there are analytics plugins that can make it super easy to dig deep into your website data.
HubSpot includes all the behavior-tracking data that you need to make decisions on content and understand what works. Its analytics tools can help you understand the ROI of your site, and presents data in a clear and understandable manner. Google Analytics provides a nice compliment to both HubSpot and WordPress data.
Foundational Elements
HubSpot CMS starts at $300 a month. Adding in a Marketing Hub package will cost an additional $50-$3200 a month depending on your package and requirements. It's not an inexpensive system, but it consistently delivers results.
WordPress is a free download, followed by hosting costs, plugin fees, and theme fees. Some fees are one-time, while others require monthly subscriptions. While you can build a comparable inbound marketing system with WordPress, multiple plugins can incur significant costs and many marketers don't feel like they have the knowledge to support these integrations without development support of some kind.
Both HubSpot and WordPress can be optimized for mobile devices, and here, as Rebecca pointed out, we have a pretty level playing field. HubSpot natively optimizes for mobile devices and all WordPress Themes and Page Builders are now responsive.
If security is a concern, HubSpot has a significant advantage over WordPress. For one thing, the platform is built by a single source, and includes a firewall, intrusion detection system, DDoS mitigation, network testing and SSL protection. Contrast that with dozens of different developers creating different pieces of your web site. If any individual plugin has a security vulnerability, hackers can gain access to the entire site.
WordPress sites require constant vigilance, as site owners need to keep plugins up to date and install their own security measures. And of course, those measures come from additional plug ins.
That vigilance needed come from the marketer, necessarily. Rebecca noted that there are new solutions out there, like her company Strattic, that provide an easy way to convert a WordPress site into a static site which makes sites much more secure (and faster too) :)
Bottom Line
Both HubSpot CMS and WordPress can provide your business with a high-functioning inbound marketing platform. WordPress may be less expensive, depending on the functionality, but it requires a patchwork approach to add in the required functionality, which could leave your system vulnerable to attack unless, of course, as Rebecca reminded us, you use Strattic.
If you're looking to explore how HubSpot's CMS can power your demand gen engine, we're here to help.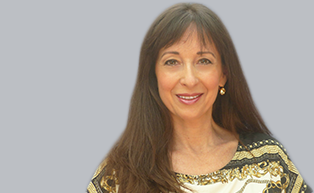 As Chief Strategy Officer at Penguin Shoham leads client strategy and manages an internal team of Inbound Consultants. To get her strategy tuned she starts each morning with Yoga and a big smile :)