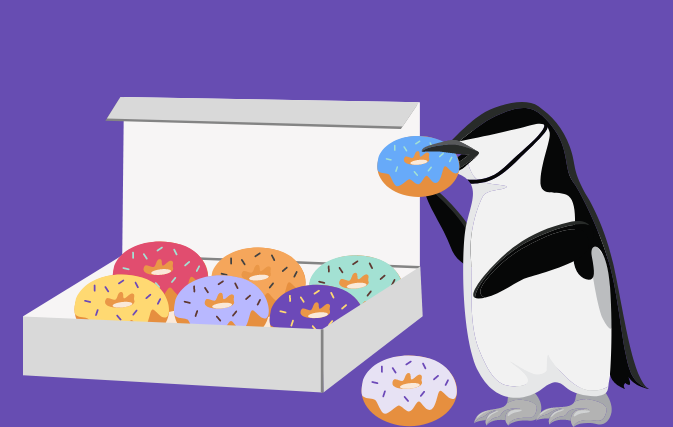 It's that time of the year where we celebrate Hanukkah - festival of lights and oily doughnuts with sweet fillings and toppings - yum. This year Hanukkah overlaps with Thanksgiving, and so while I mull over all the things I am thankful for, it seems appropriate to include my work at Penguin Strategies (a leading B2B marketing agency)
People often ask me why I continue to work for a marketing agency when there are currently so many open positions in hi-tech. It got me thinking, and I thought of 8 sweet "fillings and toppings" of why I prefer to work in a marketing agency.
1. Variety of clients



For me, this is the sweetest reason. At a marketing agency, you are exposed to a number of different clients - some just starting out as they clamber to secure Round A funding and others who are well-established enterprises. The diversity makes every day interesting.
At Penguin, we specialize in deep tech B2B. There is no denying that the tech world is fascinating with innovations that most of us would never have thought possible. We get to help companies that offer everything from autonomous drones for businesses to cybersecurity for cars to wifi chips with unique sensing capabilities. There is never a boring day!
2. security
Amongst the unicorns, it is well-known that there are also many start-ups that never manage to get off the ground. There is an inherent risk in taking a position within a new start-up. No matter how much you believe in their product or service, the future is uncertain, and soon you may be starting your job search all over again.
3. new methods and tools
Each company has its tried and tested ways of reaching their leads, and by working with a range of companies, you are exposed to many different methods and tools. This presents a win-win. While you get to widen your toolbox, you can suggest these methods to other clients. Again, you can be guaranteed that it never gets boring.
Personally, I love trying new tools too, and for example, while one company may prefer one project management system over another, I get to learn them all and become a master of many.
4. Mentorship and Upskilling
This is not a "given" in many companies, however, at Penguin everyone is encouraged to constantly learn and better themselves under the mentorship of some of the best and most experienced in the industry.
This mentorship follows a process from the stage of hand-holding to the point when you can ask questions and get quick responses from experienced veterans in the field.
In addition, there are regular upskilling opportunities, at least at Penguin. For example, during World HubSpot Certification week, each staff member was encouraged to complete as many HubSpot courses as possible and rack up many certifications. (side note: Penguin matched every donation HubSpot made for each earned certification.)
5. Collaboration with others in the same role
In a high-tech company, unless it's a large, established one, there is rarely more than one person in each role within the company: one writer, one digital marketing specialist and so on. At a large agency, you have the opportunity to bounce ideas off of peers who share your role but are on different teams.
At Penguin, we have regular teaming sessions with others in similar roles where we share our wins, learn from our losses and in general build a playbook of best practices. (Wanna see it? Come work with us!)
This playbook enables us to share the best practices with clients (and also avoid pitfalls ahead of time). This is part of the secret sauce which makes us so successful—and fosters marketing rockstars, at least at Penguin Strategies.
6. networking
In a small country like Israel with huge high-tech and marketing ecosystems, the importance of networking should never be overlooked. Working with multiple people in different roles in various companies and industries greatly expands your network.
This allows you to open doors for others, identify partners and mentors and build long-lasting mutually beneficial relationships that can extend beyond your current position. (You can be sure that your paths will cross again.)

7. less internal politics
I've heard it said not directly employed by the company you never fully feel part of the team—like the last doughnut in the box. However, there is such a large and diverse group of employees at Penguin - we already have our own team.
On the bright side, with regard to our clients, not being part of the immediate internal team also means we can be more objective and avoid being sucked into internal politics. (Of course I'm speaking hypothetically 😉.)

8. selectivity
Like the last delicious doughnut in the box, I present the 8th reason to work in an agency.
We can choose with whom we want to work. More than just accepting a SAAS start-up or autotech developer based on their budget, we look at personalities.
One of the values of Penguin which really resonates with me is "No Jerks," and Penguin Strategies really stands by this. So our clients will always work with somebody nice from our office and likewise, we can count on clients with whom we enjoy working.
However when you work in-house, it is often hard to know who your teammates will be in advance and what the company vibe is like - and trust me, I have had my share of toxic environments. Working with an agency has this special advantage of being able to choose to work with the best companies as well as the best people. And that's not just good for business, it's good for everybody.
Happy holidays and happy job hunting. Feel free to check out the openings at Penguin.

Simone is a Senior Marketing Manager at Penguin, with almost 20 years of experience in all aspects of marketing. Driven by results, she is committed to delivering nothing but the best for her clients.