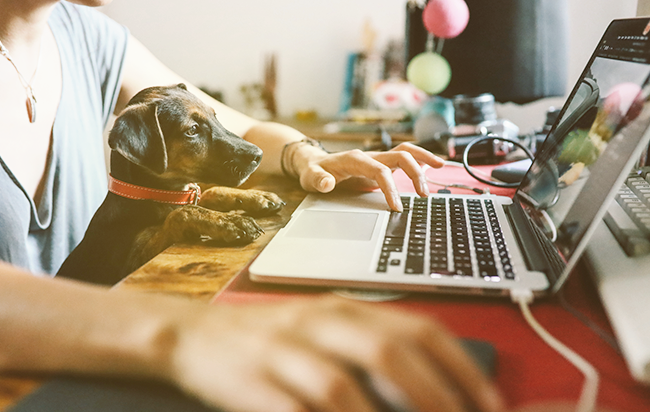 You're working from home, and you're loving it. There's constant access to snacks, tv, and *gasp* a private bathroom — hopefully, you're conserving your toilet paper. You've got pjs on and your dog curled up next to you on the couch. That's awesome for maybe three days until you realize that you're not actually getting a lot of work done despite the time you're spending "at work." At Penguin, our US Team is entirely remote and has been for years. As remote work Veterans, we decided to put together some weird (but successful) tips when it comes to working from home.
1. Start by waking up every morning with a simple routine
Forcing yourself into a morning routine will make you feel like you're still going to work without actually "going to work." Wearing your pjs around the clock doesn't allow you to have the mental separation from work and play that you need to be successful. That's not to say that you shouldn't be comfortable! Leggings and sweatpants are practically a staple in the WFH community, but don't wear the same sweatpants from 8-5 that you do from 5-10. Separation is the name of the game, and a theme you will likely see reappear throughout this blog.
2. Create structure in your day by planning it as if you still have to beat the traffic home
Even if you don't have meetings, book times to do certain activities. The same goes for your kids. Work with them the night before to build the schedule for the next day so you both know what they should be doing instead of banging on your keyboard in the middle of a Zoom call. Keeping work space and living space separate is important for your own sanity, and it's easy to fall into the trap of working long hours at home just because you are both still at the office and already home. Set a start and end time and try your best to adhere to it.
3. Stay hydrated and stay moving
It seems simple, but as time passes you will often forget to move from your desk. Stand up, stretch (try our WFH Desk Workout), and get yourself to drink at least 4 glasses of water throughout the day. Take the time to actually eat lunch and step away from your desk. Again, we love suggesting that you keep your work space separate from your home and life space.
4. Natural lighting, your eyes, and sleep cycles
Natural light is the KEY factor for keeping yourself awake and fighting the urge to crawl into bed. Everyday may not be sunshiney, but it's important to allow your body to get in tune with "daytime that's not a weekend at home."
Make sure to check your settings on your computer and select "dark mode," and every 20 minutes, take 20 seconds to stare at something that is about 20 feet away. This keeps the muscles in your eyes active so you can avoid that afternoon fuzziness and save you from pounding headaches and the urge to end your day by 2PM. Staring at screens all day can lead to less quality sleep.
Another secret tip is to invest in a good pair of blue light glasses. (We're not sponsored by anyone, but some of our office favorites are Warby Parker, Pixel, and Felix Gray.) They're usually quite fashionable and will save your eyes considerably. Because you're working from home and not in the office, you likely don't have the same distractions of regular coworkers to naturally shift your gaze to other things. Instead you might get caught in the trap of another screen being your distraction. Looking away from your work computer to Instagram on your phone does not count as a screen break!
5. The Office Setup
We know that for many of you this WFH thing seems temporary, and we hope that it is! But no matter how long or short of a time you spend working at home, you still deserve comfort and a place you can be productive. Who knows, after all this you might be hooked on remote working like we are! Some things we suggest to up the ante on your home-office:
Wireless/Bluetooth Keyboard and Mouse (to prevent Carpal Tunnel)
A nice big monitor so you can have 2 screens and stop staring at something that is very small all day
Bluetooth headphones - noise cancelling if you can.
Cozy blankets and fuzzy socks
Coasters for all that water (and coffee) you're drinking
Sticky Notes - just trust us on this one
A planner - sometimes it's nice to write things down on paper
A phone holder/stand
As many extension cords and plugs you can muster without tripping the breaker of your home
Your fidget toy or stress ball of choice
Hand Sanitizer - Now, we're just being cruel.
Essential Oil Diffuser. May we recommend Peppermint for the morning hours, Lavender for stressful calls, and Orange for the afternoon to beat the post-lunch slump.
Working from home productively is possible, and doesn't have to be isolating. With all the distractions in our world (especially if you have kids at home), it's important to find a routine that works for you and stick with it. Hopefully with these tips and tricks you will be a WFH Veteran in no time!