Sales Hub Refresh
HubSpot's Sales Hub refresh was a HUGE announcement at Inbound 2023. It could be the biggest innovation since sliced bread. Okay, okay. The Sales Hub refresh is bigger than sliced bread—at least for sales teams.

Let's look at all the new things to help you and your sales team!!
Prospecting Workspace
This purpose-built environment simplifies the entire prospecting journey. No more juggling between applications; this dedicated workspace empowers reps to structure their workdays, stay attuned to critical tasks, and receive real-time alerts for immediate actions. Moreover, it seamlessly integrates their achievements into the broader context of your company's strategic objectives.
Lead Management
Within HubSpot's prospecting workspace, a new lead "object" is now seamlessly integrated. Just like deals, users can effortlessly create leads from their existing contacts. This streamlines the lead distribution process to salespeople, eliminating any unnecessary complexity or time-consuming tasks.
A/B Testing in Sequences
In any email step, you can divide the sends evenly (50/50) to experiment with various templates. This allows you to generate performance reports for both templates promptly, enabling you to make informed decisions and enhance your outreach strategies.
Sequence Step Analytics
Utilizing step-level analytics, you gain the capability to analyze each individual step within your sequence. This empowers you to gain insights into how your sales representatives are executing these steps and how effectively they are translating into booked meetings.
Sequence Outcome Reporting

These two new metrics will be added to Sequences for Sales Hub Enterprise customers:

Deal Rate: the percentage of contacts enrolled in a sequence that led to the creation of a deal.
Total Revenue: the revenue generated from closed won deals influenced by the sequence
Book Meetings on Behalf of Others
Enable round-robin routing directly from the contact record, allowing representatives to efficiently schedule meetings on behalf of the next-in-line rep.
Lead Form Qualification
Within HubSpot Forms, establish conditional redirect rules that automatically categorize and direct your leads to the relevant sales representative. Users can customize conditional logic for each form submission, enabling adjustments to the thank-you message, URL, or meeting scheduling page based on the responses provided in the form. This functionality empowers both marketing and sales teams to streamline and automate their qualification processes effectively.
Lead Reporting
Establishing clear objectives and gaining insights will help align marketing and sales teams and make the path from lead generation to revenue generation more transparent.
Lead Contact Rate Report: This report delves into the intricacies of how and why your sales team engages with qualified leads, shedding light on the dynamics of these interactions.
Lead Source Report: Evaluate the efficiency and impact of your inbound, sales-generated, or product-qualified lead sources on the generation of high-value leads. This analysis provides crucial data for optimizing lead generation strategies.

Prospect Activities Reporting
Sales managers can use this report to track their teams' activities, evaluate sales process efficiency, resource allocation, and team performance in prospecting efforts, and analyze Prospecting process activities for effectiveness.
HubSpot Embed for Salesforce
Regardless of your CRM, Sales Hub assists in nurturing relationships with prospects and customers. You can enroll contacts in HubSpot Sequences and schedule meetings directly from Salesforce records, freeing up your sales team's time for meaningful customer interactions.
Salesforce Activity Sync
Synchronize Salesforce activities into HubSpot, allowing you to analyze calls, meetings, tasks, and other activities within Sales Hub, regardless of their source.
Forecast Insights
Easily compare income trends to your monthly, quarterly, and/or annual sales goals and track quarterly forecast and pipeline trends with integrated forecast insights.
Forecast Accuracy Tracking
Evaluate forecast accuracy and process effectiveness with forecast accuracy tracking.
AI Forecasting
Verify the team's forecast against HubSpot's AI-powered forecast, which leverages historical sales data to project future sales. AI can enhance accuracy for select teams to over 95%.
Forecast Across All Pipelines
Now you can manage goals and forecasts across all your pipelines.
Deal Inspection View
While managing Deals, you can now access valuable insights into your pipeline status and sales velocity. These insights make it easier for sales reps to prioritize tasks and enable managers to provide more effective coaching. "At a glance," you can review these insights and quickly assess the health of your sales pipeline and sales process.
Deal Funnel Reporting
'All stages in any order' funnels got updated with skips, conversions and time in stage
'All stages in order' funnels got updated with skips, conversions, and time in stage.
Deal Journey Analytics
Now you can build journeys based on deals.
Deal Tags
Now you can create colored deal tags so sales reps can visually scan the board to know which deals to prioritize
Advanced Playbook Recommendations
You can recommend playbooks utilizing any property within any object, including custom properties and properties within custom objects.
Playbooks: Snippets and Rich Text Formatting
Save commonly used phrases as snippets to reuse in playbook notes with simply and easily. You can also format your notes using rich text editing tools.
Playbooks on Custom Object Records
Access playbooks directly from custom object record pages
Coaching Playlists
Allow users to save call recordings into playlists, streamlining the process of onboarding and upskilling representatives on a larger scale.
Sequences on Mobile
iOS and Android Apps will support enrolling, un-enrolling, pausing and resuming contacts from a sequence.
Content Assistant on Mobile
The HubSpot mobile app now features AI capabilities that are set to transform the way our customers operate while on the go! For iPhone users, this means an improved ability to streamline email composition for more efficient prospecting and sales activities.
QR Code Scanner
Salespeople can quickly create and save new contacts in their CRM through an easy two-step process by reading a QR code. The QR code scanner simplifies contact creation in the CRM by quickly reading QR codes, complementing HubSpot's mobile app business card scanning for in-person events.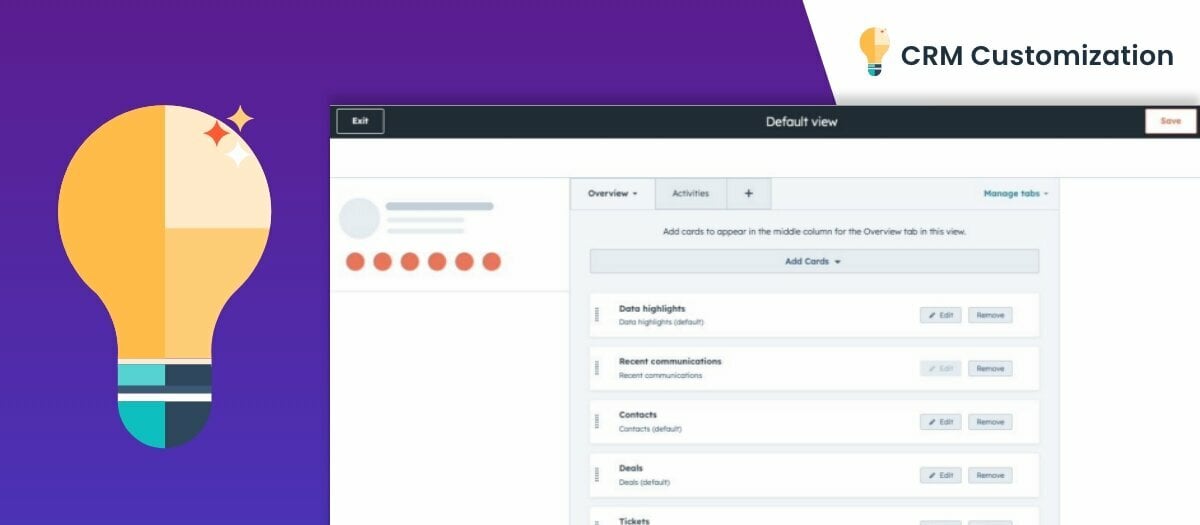 CRM Customization
If you thought that The Sales Hub Updates were enough you'd be wrong. Not only did HubSpot make huge updates to Sales Hub, they updated their CRM customization as well.

Let's take a look!
CRM Development Tools to Build UI Extensions with React as Front-End
Consolidate information from various systems into a central location on the record. Enhance user experience by creating UI extensions (custom cards) for CRM record pages. Utilize React to craft interactive extensions, delivering the right information to users when and where they need it, thus improving functionality and overall user satisfaction.
8 CRM Data Components Including Report, Association Table & Stage Tracker
Enhance sales representatives' productivity by customizing the record page view according to teams. Create custom cards equipped with 8 CRM data components to streamline data visualization and keep your teams operating efficiently within HubSpot:
Monitor Account Revenue: The report component lets you showcase quarterly revenue reports, simplifying trend analysis over time.
Filter Associated Contacts: The association table component allows you to generate a filtered view of contacts created in the last 30 days with email addresses.
Visualize Deal/Ticket Pipeline Stage: The stage tracker component shows you the pipeline stage of deals or tickets, highlighting four key properties.
Action Extensibility in CRM Data Components: Trigger various actions on the CRM record page from custom cards, including web links, HubSpot-defined actions, and custom actions, further enhancing functionality and flexibility.
CRM Record Page Editor
Admins can easily customize the middle column of a record to match their business' needs.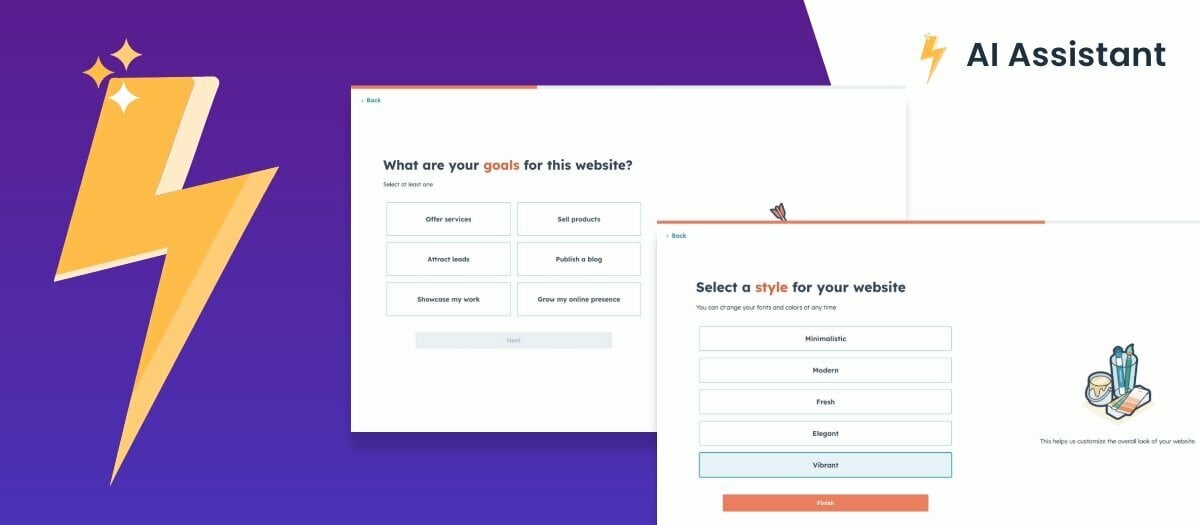 Artificial Intelligence
HubSpot is taking this whole AI thing pretty seriously. They just announced some pretty major additions and integrations to make your content creation as easy and accurate as possible. Check it out!
AI subject line generator
Content creators can craft email subject lines for campaigns using the Subject Line Generator in the Email Editor. This tool, powered by HubSpot's email insights and best practices, automatically generates three subject lines from your email content with a single click, eliminating the need for manual input or prompts. With a click, you can generate similar subject lines.
AI website builder
We're creating a streamlined, AI-enhanced onboarding experience that significantly reduces the decisions CMS Free users must make when starting with a website.
AI-Generated Social Copy Within Blog Editor
Simplify social media promotion for marketers by allowing them to generate social posts within the blog post editor using the social composer side panel.
AI-Powered Content Ideas for Blog with Semrush Data
The new blog content idea generator is a remedy for writer's block (or fear of the blank page). Powered by ChatGPT and Semrush keyword data, it effortlessly creates blog topics, titles, descriptions, and outlines. Simply describe your broad topic, and HubSpot provides targeted ideas, scored for SEO potential and Google popularity, to supercharge your blogging—with topics scored for how easy they are to rank for and how popular they are on Google search to help you get the best results.
AI Content Assistant: One Click Title and Meta Description Generation for Pages and Blog
We've introduced the content assistant functionality within the settings field of website pages, landing pages, and blogs. With a click, you can now generate SEO-friendly titles and meta descriptions. This feature analyzes your page's content and utilizes AI to craft engaging titles and meta descriptions that precisely reflect your page's content.
AI Content Assistant: Image Generation
Generate images based on a prompt or context from the task being performed.
AI Content Assistant: Slash and Highlight Commands for Text Editors
Content creators can now easily generate blog outlines, paragraphs, ideas, and conclusions directly within the blog editor. They can also edit existing text by rewriting, shortening, expanding, or adjusting the tone of selected text—all within the same editor.
AI Assisted Report Descriptions
Now you can quickly add and edit descriptions on Reports.
AI Generated Reports
Create reports with just a simple question. AI-generated reports simplify the process of creating tailored reports to address your business inquiries effectively.
AI Generated Workflow Description
Customers often face challenges in quickly grasping the purpose and function of their workflows. With generative AI, HubSpot can now aid customers in comprehending and summarizing the objectives and actions of a workflow, making it easier to understand its purpose.
Conversation Summary
Introducing AI-generated conversation summaries in the Inbox. Now, all active thread conversations across various channels can be neatly summarized within the comments section. This feature provides a quick and convenient way for any inbox user to grasp the conversation's context without having to read through every message.
Content Assistant in Inbox
With content assistant, you can generate responses to customer inquiries and also edit existing or generated text by choosing to rewrite, shorten, expand, or adjust the tone of the selected text to suit your needs.
Landing Page Creation from Content Generation
Write landing pages with Campaign Assistant. Then in just one click, have your landing page built. Go from a blank page to a published landing page in minutes.
LinkedIn & Facebook Text Ads Copy Generation
Craft copy for your LinkedIn and Facebook ads effortlessly with Campaign Assistant. With just a click, you can generate three different variants to test for your upcoming campaign.
Repackage Existing HubSpot payments as "Commerce Hub"
If all of that wasn't enough for you, HubSpot even made updates to their payment options for you.
Stripe Payment Processing
Commerce Hub now provides flexible payment processing, enabling you to effortlessly and swiftly collect payments from your customers directly within the HubSpot CRM, using your existing Stripe login credentials.
Invoices
Now HubSpot payment merchants can generate native invoices. These invoices can be created from Contacts, Companies, Deals, or Quotes, automatically pulling in associated information to expedite the sales process and minimize the chance of errors. HubSpot invoices are payable through HubSpot payments (including ACH and Credit Card) and Stripe payment processing. Additionally, they can be manually marked as paid if received via external methods like wire transfer, check, PayPal, and more.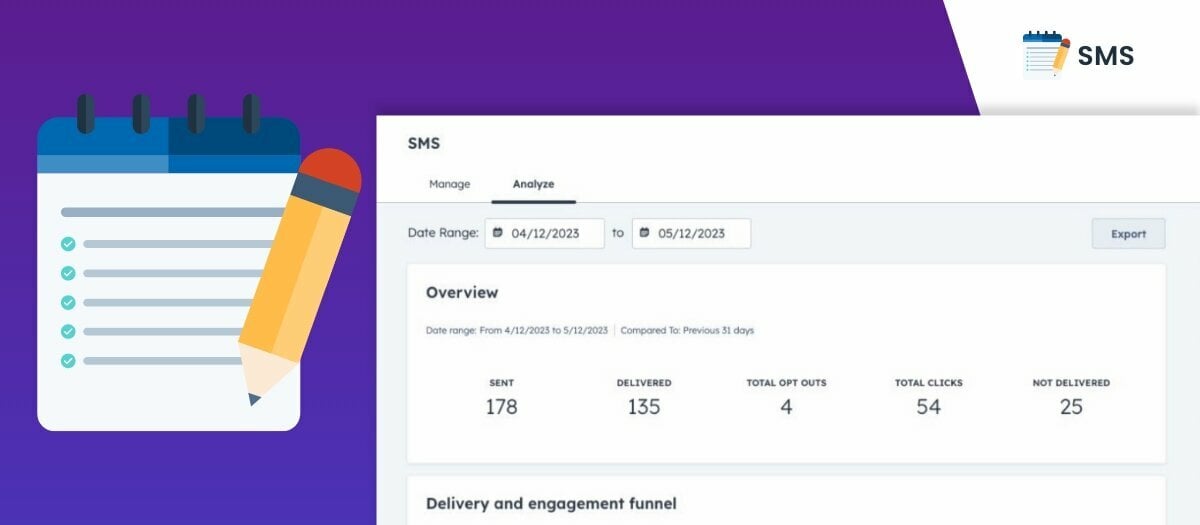 Mobile Messaging
Last, but definitely not least, HubSpot just announced updates for their mobile users as well.
Many Messaging
Send broadcast messages to your current and potential customers with complete ease. HubSpot's unified data lets you personalize SMS reminders, offers, and updates, encouraging engagement and action. Additionally, seamlessly integrate landing pages and meeting links directly into your SMS messages for a more connected experience.
Consent Management
Manual Consent Management: Easily manage verifiable consent within your contact list, allowing you to add, modify, or remove it as needed to maintain compliance and data integrity.

Automated Consent Management: Simplify administrative tasks while effectively managing consent. Easily address opt-out requests, ensuring your communication aligns with your audience's preferences and remains efficient.
Intuitive Editor
Create compelling messages with the user-friendly HubSpot editing interface you know and love.
Edit Tab: Add personalization tokens, links (including landing pages and meeting links), body text, preview screen, character count, location preview, and an opt-out toggle.

Settings Tab: Configure the internal name, subscription type, language, and preview the opt-out message. Link the message to specific campaigns.

Send & Schedule Tab: Choose who to send the message to (or not send to), set sending options (including scheduling), and see the estimated number of recipients.
Personalized Token Support
Incorporate personalization tokens into your messages to dynamically insert individual contact details, including the recipient's name, company, or other specific information to provide personalized experiences.
AI content assistant: slash and highlight commands for SMS
Content Assistant will now be accessible for SMS as well. Content creators will have the capability to generate messages within the SMS editor and can also highlight existing text for rewriting, shortening, expanding, or adjusting the tone of the selected text, providing enhanced SMS content creation tools.
SMS Automation (Beta)
Develop custom workflows that respond to customer actions, guaranteeing that your messages reach the appropriate individuals at the right time. Whether it involves sending a follow-up message following a prospect's interaction with your website or delivering a special offer as a lead progresses through the sales process, our automation feature simplifies your communication efforts and conserves valuable time.
SMS Reporting
Access valuable insights through extensive analytics, tracking opt-out rates, total clicks, click rates, replies, and reply rates. This allows you to uncover the effectiveness of your SMS campaigns, gain insights into customer interactions, and refine your messaging strategy to maximize engagement and impact.
SMS Usage Tracking
Proactive prompts regarding remaining message counts will assist you in keeping track of message usage while planning and sending your campaigns, ensuring you stay updated.
To Conclude
HubSpot just made huge updates to help marketing and sales teams stay at the top of their games, and do what they do best.

We at Penguin Strategies, are so excited to see how these new updates can help us, and how we can use these updates to help you!

For more information, reach out!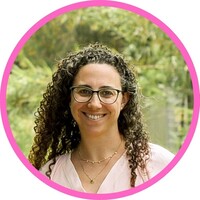 When Iris isn't posting on social for herself, she's posting for clients. Other than social, Iris runs the day to day operations on one of Penguin's largest accounts and manages projects and operations for a number of other clients. Working at a B2B marketing agency has been a dream come true. She also loves being a Penguin!