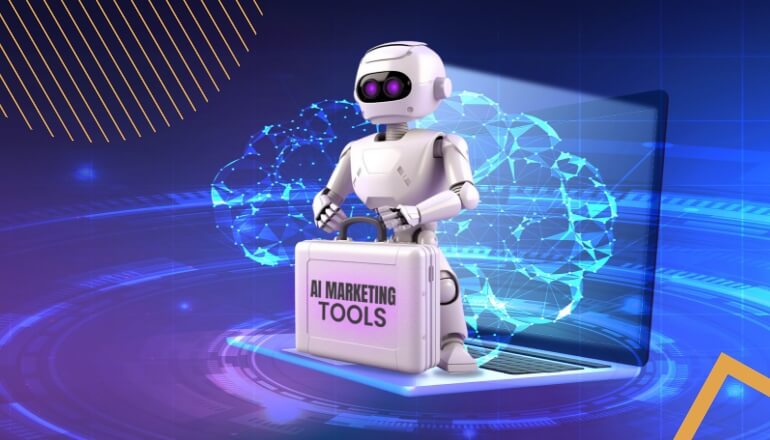 This year I have spent a large part of every single day leading the AI rush at Penguin Strategies. During this time my main focus has been: Training myself and the team on AI and its potential, implementing AI into our internal processes, evaluating various AI marketing tools and putting together our AI services package.
After months of work, here is a list of our favorite AI marketing tools. We haven't seen every tool out there. New ones are launched each day. But these are our favorites and why. If you're late to the party, check out The Rise of Generative AI in Marketing.
SEO Writing - Frase.io
AI writers are good if you know how to use them. But finding the right balance between freedom and framework of prompting is complex and not the same for everybody. Our favorite writing tool as you will see below, is ChatGPT.
But Frase is not your average writing tool. Frase gives value where others do not in terms of assessing your keyword strength, what your competition is doing and how to incorporate the best SEO content to your content.
Let's say you are writing a blog targeting the keyword 'ai marketing tools.' With Frase you can see immediately the page structure of the top 20 results for this keyword.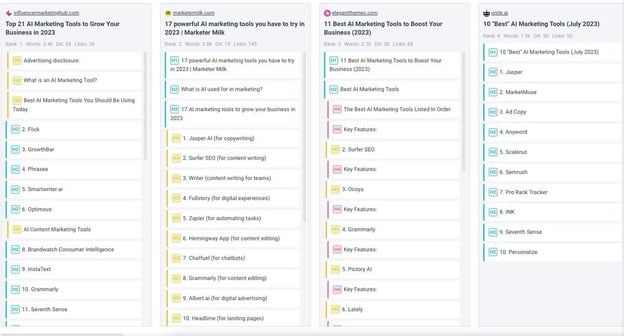 You can just click on any heading to add it to your outline. You get to explore questions from SERPs, people also ask, Quora and Reddit as well as stats sources, news and Wikis. All can be added to your outline or summarized and added to your outline with just a click of the button.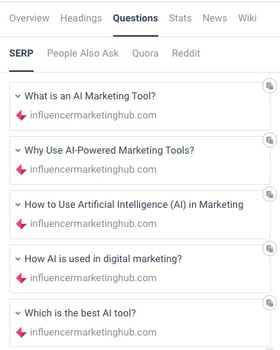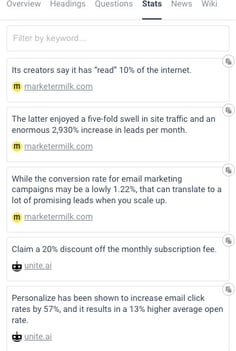 After giving section-specific and overall document instructions (or letting AI do it), you get the draft. The writing tools are similar to other platforms. My favorite tool for writing is ChatGPT which brings us to…
Conversational AI Chatbots - ChatGPT
ChatGPT 4 is our favorite. Earlier this year, we were pretty set on structured prompting becoming the main interface between humans and AI. The kind of interface where you fill in a few fields and it adapts the prompt accordingly. Like how it is on ChatSpot (we'll get there later on).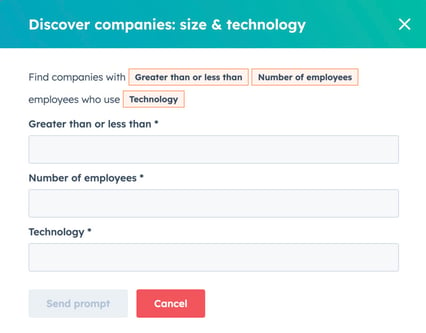 But as we continued to use ChatGPT and better understood prompting, we came to enjoy conversations with ChatGPT and the freedom to customize what you want when you want. Here's an example.
But right now, there is one colossal minus that is extremely frustrating which is the knowledge cutoff date. For a short while, ChatGPT could access the internet (you still can via plugins), but that has been suspended while they sort out issues with paywalls. Until they do, Bard and Bing help with AI-ing the internet, and ChatGPT is the address for creation and research on topics that haven't changed since 2021 (i.e., the history of a technology).
Brainstorming - Whimsical
Here's a fun one. We use a tree map during brainstorming sessions with Whimsical. You can add branches to help you ideate through AI and remove those you do not like (after level 3, the tree has some difficulties).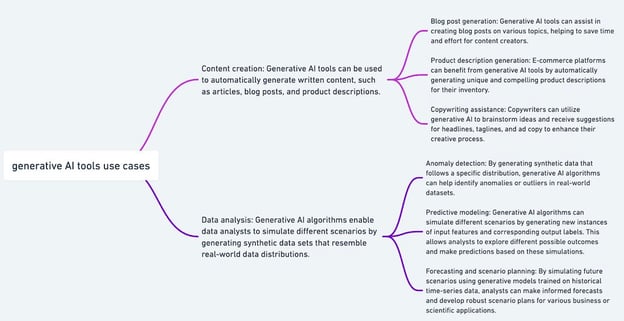 It's also great for creating diagrams and charts. They have a solid library of templates, and everything is very straightforward for adding and removing branches and steps throughout the flow. Here is an onboarding flow, for example.

HubSpot's AI Adventure
It's still in alpha and beta, but we love the direction HubSpot are taking for their AI tools. And what is released is only the beginning. They have teams working on many development projects for all parts of the platform. It is super exciting.
Content Assistant has performed just as well as any other writing tool out there, though the interface is lacking. But its complete integration more than makes up for it. Here is what it can do.
ChatSpot will change how the broader team uses HubSpot. Once it is up and running, many roles won't need to enter HubSpot's backend at all. They will be able to accomplish their standard tasks and updates exclusively through ChatSpot. ChatSpot also has a nice group of prospecting prompts which is great as prospecting was always weak in HubSpot. Right now, it is in its infancy (alpha version) but growing by leaps and bounds, with Dharmesh pushing the team forward.
Their weekly update emails come straight to your inbox in video and a written version so you can choose whichever you prefer. Once you create your ChatSpot account, you should be added to the mailing list.
Bonus: Two More Tools!
We decided that if you've read this far into the blog you deserve some bonus tools, so here are two that almost made the list:
Quick Research - Albus
Albus helps you explore new topics. You can ask your own questions or let the AI guide you through a topic perhaps asking questions you would not have thought of on your own.
In a very straightforward UI, you can quickly access information and look for solutions to problems. Here is what it has to say about itself.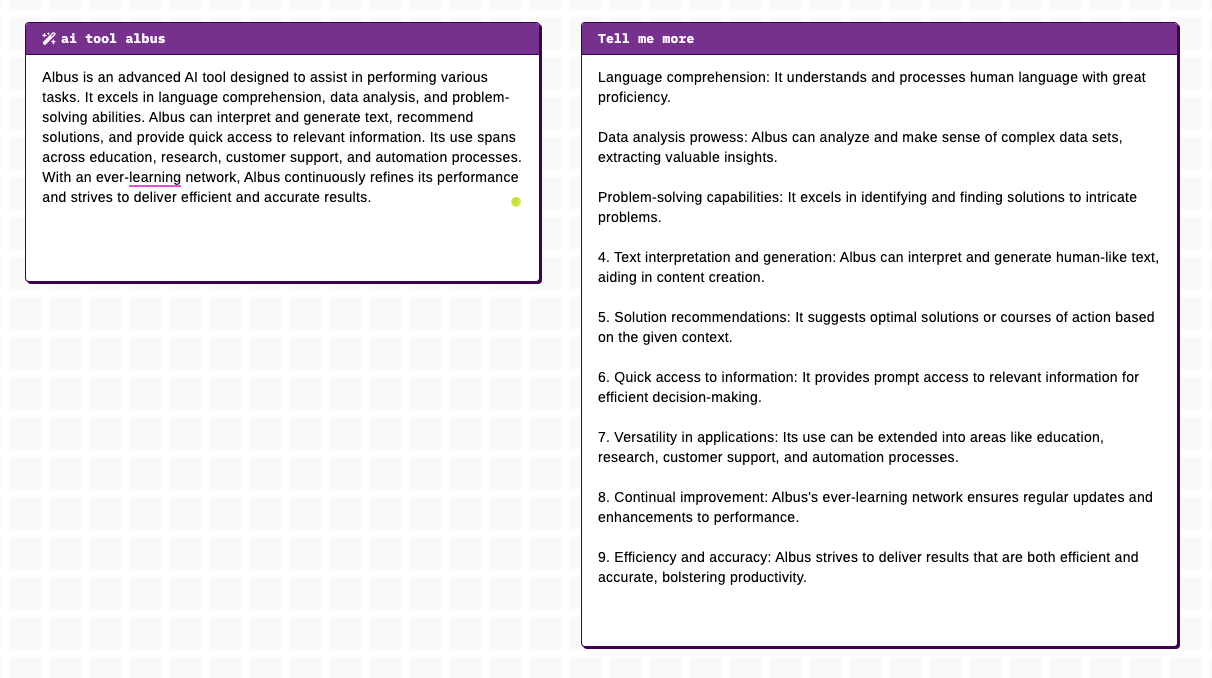 Independent Agent - Hyperwrite
It's not there yet. But I am excited about what I see so far in Hyperwrite's Personal Assistant. The dream is to have a bot that can undertake complex tasks independently with minimal input from the human.
Right now I find it extremely entertaining to just watch it do its work in the browser, but its real value is that you can put it in the background while it does the work and focus on other tasks at hand.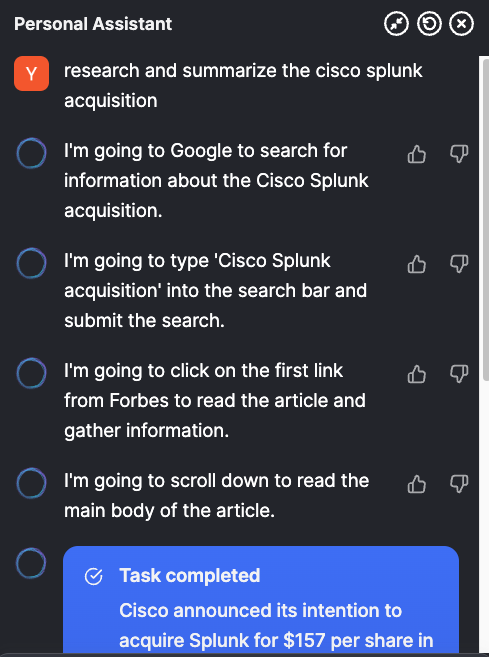 Summing Up
These AI marketing tools are just a drop in the bucket. AI tools are launching left, right, and center. You need to know which to trust, which will bring real value and which will disappear as the market naturally contracts. You also need a guide to take you through it. It's not as straightforward as it sounds…
There's a great guide named Yoni, just say you're interested in hearing more.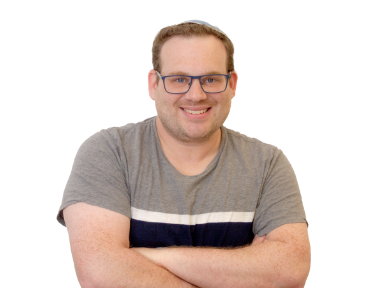 Yoni is our Director of AI marketing solutions and senior marketing strategist. He is certified by the AI Marketing Institute and as a HubSpot trainer. Yoni helps companies adopt generative AI tools in their tech stack and works with AI generated content to produce the ultimate assets in record time. Yoni runs marketing strategy for clients from various industries, including automotive tech, cybersecurity, finance and more. Yoni's not-so-secret marketing secret? Everything in marketing comes down to goals and audience. If you don't know who you're talking to and what you want to achieve, you're shooting in the dark.