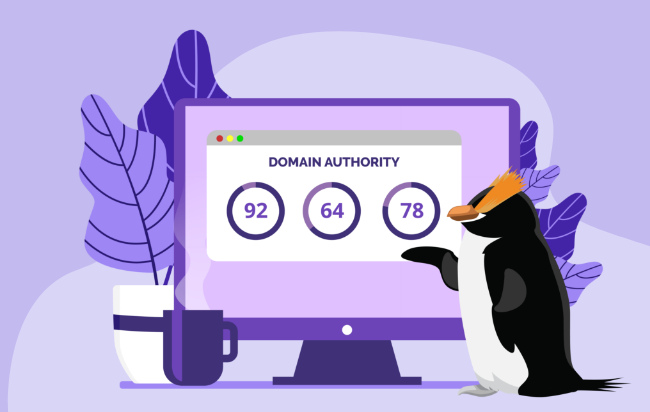 Let's get one thing clear - "Domain Authority" or "Authority Score" or whatever you want to call your site ranking is not real and the Google algorithm doesn't actually work according to it. If Moz gave your Domain a score of 32 and SEMrush 36 Google still might think you're the best thing since sliced bread and rank you high.
That being said, in today's world when we are constantly seeking quantifiable numbers, a "score" is the best measurement a marketer can use to explain what they are doing. In terms of the accuracy, chances are that if a competitor is ranked higher than you on Moz or SEMrush, it probably means that Google also ranks them higher and every piece of content they create will rank higher and bring them more quality traffic. And we don't want that, do we?
So what is a domain authority?
We will go over the major parameters in a moment, but first, as a rule of thumb: The more "respect" your site has online, the more Google trusts you to deliver information to Googlers. The importance of each parameter may differ, but the logic remains the same. If the entire internet links to your article about "The best way to raise walnuts indoors" then Google will probably link there too.
Easier said than done, right?
Now let's get into the major parameters to take into consideration for your site's Authority Score:
Content is King- it might go without saying, but I'll say it anyway. If nobody would want to read your boring content, then nobody will want to link there either, especially Google. Invest the time, effort and care to create quality content, don't disrespect the reader and try cheap manipulation or clickbait - it won't work.
Technical SEO - In order for Google to index your site properly, it needs to be able to understand what you wrote. This is, unfortunately, not as simple as just writing everything and hoping for the best. Make sure your sitemap is working properly, that you have used proper titles and subtitles (H1, H2 etc.), and that you've created structured data when needed. Don't be lazy.
Connect your website internally - The only way for Google to see the value of your site, and decide that you are the authority in a certain topic, is by connecting all of the information you created on the subject (Blogs, videos, assets, FAQ ETC) through internal links. You're not being sneaky by adding a link to a different piece of similar content from your site, you're being smart and Google recognizes that.
Authority score is BACKLINKING - In a way, for your authority score, this is the most important thing to do. You are only as important as the sites that link to you. Take the time (and money) needed to build quality backlinks from high DA sites. It will undoubtedly make all the difference in the world. You can not increase your DA without quality backlinks. It doesn't mean you can't be ranked high in SERP, but it sure would help.
Toxic links can give you hell - treat them. The other side of Backlinking comes with toxic links. If high authority links will increase your DA, low authority links, like ones filled with spam (think click farms in the far east) will flag you and penalize you with Google. This is something that you may never even know about but can hurt your business in its SEO. To properly track your backlinks, be sure to use the right software such as SEMrush or Ranky and disavow them.
The site needs to fresh, don't let it go stale - Fresh content needs to be consistently published to keep your site alive and interesting for the Google crawler. Changes and improvements should constantly be made. Google values a live, quality site, not one that uploaded a piece of content half a decade ago.
Time- don't expect instant results. A site should have some mileage on it. You can't create something from scratch and expect to be ranked high immediately, there is value in years of work on site. That said, this is not the top parameter. But sometimes, if other, older sites have good content, Google will not hurry to change it and push up the new kid on the block.
To Summarize:
By systematically and deliberately working on the site you can increase your Authority Score considerably and pass your competitors. That, in turn will enable you to rank higher on important, highly competitive keywords and get more quality users to read and interact with your content. Do not underestimate the importance and value of a quality site. I can assure you, your competition is not.
A results-driven online marketing team leader with a career-long record in growth analytics and end-to-end campaign execution. Specializes in operating complex online campaigns while optimizing ROI and solving user bottleneck through traffic analytics, A/B testing, and UI behavior.