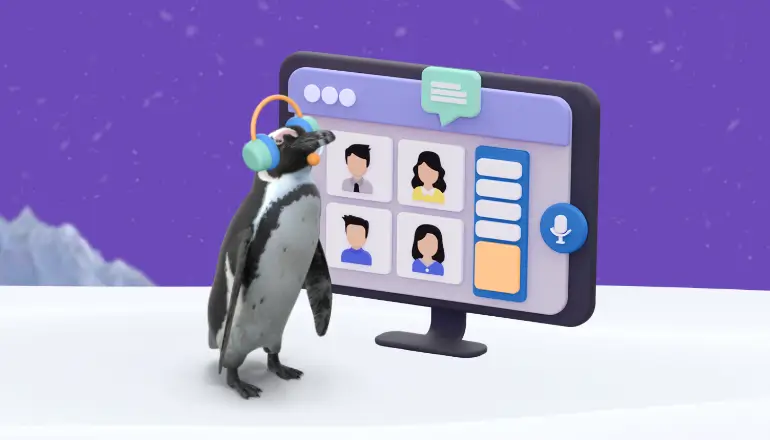 What is Influencer marketing?
The power of influencer marketing is undeniable since people trust people—and are more wary of companies who have their own sales agenda. If someone who is admired and respected is associated with a particular brand, their followers are likely to feel an affinity toward the brand, too.
We've all seen the ad of George Clooney sipping his freshly made Nespresso coffee, and let's admit it, many of us have salivated for our own (Nespresso machine that is, not George 😉).
Traditionally, influencer marketing has been used in the B2C world. How can we make use of influencers in B2B marketing and why is this so important in 2022?
WHY INFLUENCER MARKETING IN 2022?
In the 2010s marketers relied on potential buyers visiting their website or blog for information, then filling in a form to access gated content and… boom — a lead is born.
Today, however, people are turning to social networks: platforms–and people–they trust. Today's buyers prefer getting information from peers or from people with a high level of authority. Today's buyers are the ones who come to you. This is the move from lead gen (where we push information to a targeted group of people) to demand gen (where we educate people and wait for them to signal that they're ready to buy) and one of the best ways to begin this process is to identify Subject Matter Experts (SMEs). These SMEs will generate awareness of your brand and build your authority.
How is an influencer different from a brand ambassador?
Brand ambassadors are people who already use your product or service and are so happy with the result that they spread the word to their friends and community (usually voluntarily). Brand ambassadors are important to any company because a satisfied customer is the best business strategy of all. So if you can get a lot of customers to be raving fans - that is the best. But that is not always achievable, certainly not for startups.
An influencer, on the other hand, can help you reach niche customers that you would not otherwise be able to tap into since this audience follows them.
How to start implementing Influencer Marketing
The first step to influencer marketing is to define your marketing goals very clearly. Next, identify the right influencer/s who can best help you meet these goals. There are many online tools that can help you in this first step, but you may have already manually identified influencers in your industry.
B2B influencers are not your everyday celebrities; in fact, the size of an influencer's following is not necessarily a key factor here. What is important in B2B influencer marketing is whether your influencer's following aligns with your targeted audience and whether this person's values and messages align with your product and message. The influencer may be:
a well-known speaker
a writer either for an industry publication or for their own community of followers
a person of standing in a well-known company or institute (for example regulator, or retired executive)
anyone else who has made a name for themselves in your field.
Much has been written about macro and micro-influencers, and it is generally agreed that macro influencers will demand more of your budget. However, their actual impact may sometimes be lower than that of micro-influencers, who may garner more engagement due to their niche audience of engaged followers. What's most important is that there is an overlap of their followers and your target customers.
Once you have identified your influencer and they are on board, you should outline how they can best make use of their influence—whether this is through collaboration on content (they would hopefully be a subject matter expert and publish on at least one platform), participating in events or webinars, or advising potential customers.
Let's take an example from one of Penguin's clients - CybergymIEC - a cyber defense company for critical infrastructure. They recently launched an influencer marketing campaign using some prominent government officials in critical infrastructure —both in the US and Israel. One of these influencers in this case was impressed with their offering and agreed to participate in a webinar. The webinar will be the springboard for additional content in the future. The other has agreed to sit on their advisory board, contribute to content and participate in events.
Data shows that an "always on" campaign is a far more successful tactic than a one-off operation since this allows your influencer time to build trust in your brand with his/her audience. So using the above example, CybergymIEC has planned for their influencers to continue to promote their products and services through quotes in blogs, social media, presence at events and more.
This type of long-term relationship is important to keep in mind when drawing up your goals and identifying the influencers. It's a much more difficult process to maintain (especially from really prominent influencers who have many other companies vying for their endorsement), but the more an influencer is involved in your brand the more trust you will gain from their followers.
Too Much Too Fast Can Be Too Bad
There are many wonderful success stories using influencers in B2B. Penguin, for example, has worked with companies that have used micro-influencers in very niche automotive fields with huge success to macro influencers in the video gaming development industry for the promotion of fraud detection software.
However, if your influencer has a very far reach, and the followers embrace your services more enthusiastically than expected, this can backfire worse than Chitty Chitty Bang Bang. . .
Once, Tim Ferriss promoted a product and the response was so great that the company's website crashed from the sudden onslaught of traffic. Worse still, the supply could not keep up with demand, and their quality deteriorated, and their service couldn't keep up. The result was disappointed customers who instead of becoming brand ambassadors, told the world of their bad experience with that brand.
Conclusion
My advice - whether you choose to work withmacro, micro or even nano influencers, make the choice based on who has a solid following which nicely overlaps with your target customer base. Build a long-term plan and use a range of methods and channels.
Willing to give it a go? Let us know your B2B marketing success stories.

Simone is a Senior Marketing Manager at Penguin, with almost 20 years of experience in all aspects of marketing. Driven by results, she is committed to delivering nothing but the best for her clients.