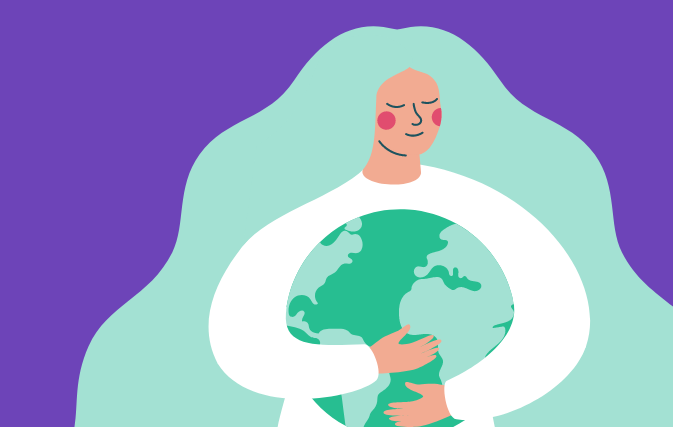 In preparation for Earth Day, we are proud to host this guest blog from Torben Lonne that discusses the benefits of Going Green for B2B businesses.
Sustainable business practices are nothing new. They've been around for decades, but it's only recently that both B2C and B2B have started recognizing the potential of adopting them.
You can attribute the rising concerns about the negative impact of business activity on the environment to the increase in CO2 emissions by 50% since 1990 or to the awakening of global consumers to the need to hold companies accountable for their disregard of social corporate sustainability policies; the bottom line is that waste-free living is here to stay and companies wishing to remain relevant will have to adapt to the new eco-friendly demands.
In the case of B2B companies, this need is as urgent as ever. Operating as a green organization requires you to find suppliers with a similar ethos so that customers you're doing business with never question your commitment to sustainability.
Acknowledging that you need to create partnerships with businesses that share your environment-based values is the first step towards becoming green. The second one is to find them and reap the benefits of reduced costs, scalable operations, and satisfied customers.
What are the benefits of embracing sustainability for B2B businesses?
Attracting and retaining top talent that is millennials and Gen Z-ers: With the workforce demographic shifting towards the younger generation, it makes sense for this age group to be the driving force of change within the B2B space.

Since this employee group just so happens to

care about the environment more

than any other generation, their purpose-driven values will force B2B brands to rethink their own if they want to keep them around.
Adapting and innovating before the competition catches up: When you find ways to solve sustainability issues in your industry early on, you're bound to become the pioneer that stands out from the crowd. And what B2B company wouldn't want to be known as an innovator?

To be among the winners, you should invest time in research and development, experiment with operation processes, and implement what proved to be worthwhile with environmental standards in action.
Making internal processes more efficient: Strategic planning based on sustainable business practices that are incorporated into the structure of B2B isn't expensive (as some might think). In fact, it can reduce expenses coming from the wasteful use of resources and allow to invest in processes that bring in more money.

An old study found that companies that take time to create value chains that are eco-friendly are the ones that discover financial benefits that the reduction of waste and energy efficiency can provide.

It's also important that, as with other business practices, doing without telling won't take you far. Once you settle on the strategies that you'd want to employ to decrease your footprint, it's important that you share it with the world.

Make sure you incorporate and highlight it's importance as part of your overall inbound marketing strategy as well as your social media strategy. This is even more true if you're hoping to use your green efforts to attract young talent: if you won't tell them on the social media channels that they use, they won't hear about it.
How to improve your corporate sustainability as a B2B business?
1. Switch to renewable energy
Easier said than done, but the change doesn't have to be that radical from the get-go. Start by cutting down on coal and natural gas that contribute to global warming the most and you can jumpstart your 'going green' process without having to install a somewhat costly clean electricity straight away.

Once you allocate the funds for investing in solar and wind energy - or find partners to share the expenses with - you're one step closer to becoming a more environmentally-friendly B2B company that takes reducing its electricity-linked emissions seriously.
2. Source recycled materials only
It's about time companies go plastic-less. Sure, choosing plastic is convenient, but not at the expense of the 381 million tons of waste the world produces each year. Around 8 million tons of it end up polluting oceans. As a business dealing with other businesses, it's your responsibility to reduce the amount of plastic you use in your manufacturing processes and go for alternatives that won't end up in landfills.
Take it from Nature Nate's Honey Co. whose CEO claims that the bottles for the honey they use are made from 100% recyclable materials. The same goes for their shipping packaging that is often overlooked in the industry.
3. Invest in carbon-neutral logistics
If selling tangible products, offsetting transport emissions when delivering the goods should be your number one priority. Given that you'll often be supplying companies with products in bulk, it's that much more important to invest in low-carbon shipping.

One way to reduce your logistics-related carbon footprint is to learn exactly how much pollution is created by your company. This will help you understand where you can cut down on non-electric shipping vehicles and what old vehicles can be reused to neutralize the carbon-emitting transportation process.
P.S. Keep in mind that fast shipping comes at a cost of additional fuel that doesn't benefit the clean environment.
Lead by example
The transition to sustainability - just like becoming successful - doesn't happen overnight. It takes a village, or, as it is with B2B companies, business partners that share the same sustainability values and are thus capable of driving change together.

But while you're on the journey to adopting more environmentally-friendly business practices that are slowly becoming the new normal, take this time to do your research and evaluate what company policies you can tweak today so that you can profit from being a green business down the line.
Co-Founder & Chief Editor, Diver