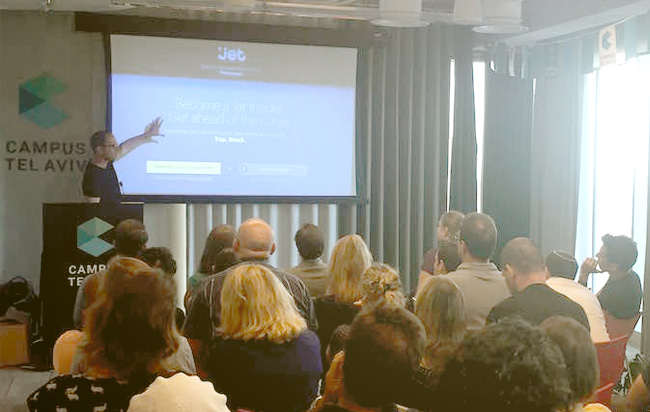 Yet again, the HUG meetup at Google Campus Tel Aviv was a resounding success. On June 21st, we at Penguin Strategies organized this event around the theme of web design, with a particular emphasis on design that leads to lead generation.We had the privilege of hosting speakers from different locations, with varying backgrounds and each with their own unique perspective on the role that design plays in generating quality leads.
Luke Summerfield: Growth-Driven Design
Our first speaker was Luke Summerfield, Program Manager at HubSpot, our favorite all-in-one marketing automation tool. His focus was on rethinking the entire process behind web design and he showed us how to build a peak performing site with less waste and in half the time.
Those of you who are familiar with building websites for their business are also familiar with the accompanying challenges, primarily launching it on time and completing it on budget. This can be exciting, but also extremely stressful and emotionally draining, as is cleverly displayed in this word-cloud of sentiments that Luke gathered from communications with people that he had encountered who had to design a website.
Traditional Web Design is Inherently Risky
Luke's first observation was that traditional web design is inherently risky. Between upfront costs, other resources, and the time it takes, the rewards rarely outweigh the sacrifices. This is unfortunate because when asked how important the website is to their business on a scale from 1 to 10, most professionals (54% to be exact) say 10/10.
As you can see, this method leaves a lot of time for the website to remain unchanged and static. Frankly, two years is too long for a company's public presence to stay the same, especially with the rapid pace of technological advancements on the internet. Often, after even one year, websites can become outdated, slower and less appealing.
In short, traditional web design is broken, but it's not about a lack of talent, it's about the broken playbook.
Ultimately, this is where growth-driven design comes in. If performed correctly, the following method is a smarter approach to web design, which reduces headaches and maximize results by learning from and about ones' users. It would also inform other departments as they deal with customers, enabling sales to learn from marketing, marketing to learn from IT, IT to learn from sales, and so on.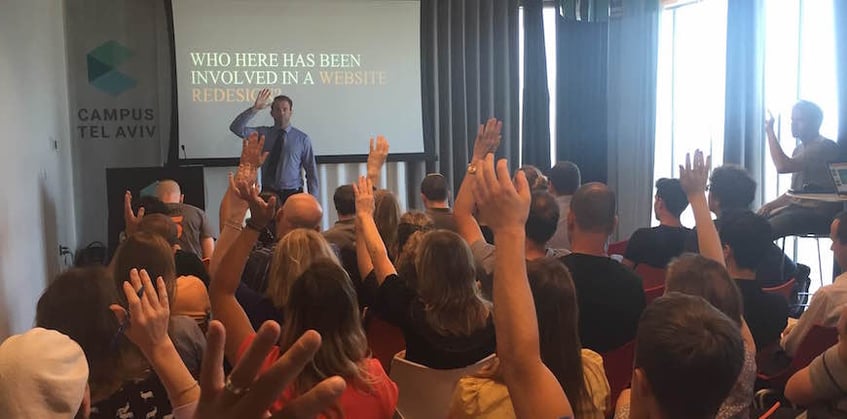 The 3 Steps of Growth-Driven Design
There are 3 main steps to this process, but the third is the one that will be in effect for the longest.
1. Strategy: This is the foundation of all alterations, modifications and redesigns of the website that are to follow. If there isn't a solid footing in strategy behind every action taken, then there exists the potential for inefficiency. In this step, you must set goals, establish personas, and incorporate the website itself into the customer journey. The pain points of those customers and the solutions to those pains must be taken into account. Now, you have to brainstorm about what impactful actions actually drive value to your users and which goals are most important to accomplishing them. This can take the form of a 'wishlist'. In other words, if you had an unlimited budget, what would you offer
2. Launch Pad Website: This is the quickest step, but it is extremely integral. It's important to remember that, especially concerning web design, THERE'S NO SUCH THING AS PERFECT. However much more work it may need, it will have time to improve, but it's absolutely necessary to build something and get it out quickly.
3. Continuous Improvement: This step is about having a rock-solid process that is both adaptable to new platforms and technology, but also easy to reference at your convenience.
The first two steps should take 45-60 days, which will undoubtedly impress your higher-ups. However, it's this third and final step that takes the most time and requires continual attention.
The trick is to determine, not only which actions need to be taken, but also in what order they should be handled. There are always so many potential options and opinions of how to improve a website's design, but it's important to invest your time and the time of the relevant departments wisely.
Website Hierarchy of Continual Improvement
Here is the website hierarchy of continuous improvement:
Provide Focus: Find that metric, coined the 'Focus Metric', which is the most important indicator of success for your particular company. It can be website views, leads generated, click-through rate or any number of measurements. To assist in attaining improved performance in the Focus Metric, you need to identify the 'Leading Indicators', or smaller goals that help build toward the grander goal.
Set Clear Expectations: Make sure your team knows exactly what is expected of them, both as individuals and as a group.
Measure Progress: Regularly audit the site's performance, making note of what is doing well and what isn't. This helps to prioritize and determine where to invest your time. Continue to do research and brainstorm, but always with the Focus Metric at the forefront of your mind.
Once you're done with all of this, repeat the cycle, then repeat it again. Your business is constantly evolving; your industry is as well. Technology advances rapidly and the world never stands still. So, why should your website go without update for months or years at a time, especially when that means spending more time and money in the future?
Lastly, remember to use ACTUAL data to make decisions and let that data speak for itself.
Luke Summerfield
Program Manager, HubSpot
Growthdrivendesign.com
luke@growthdrivendesign.com
Elad Bleistein: Conversion Optimization - Case Study
The next speaker we hosted was Elad Bleistein, the CEO of PandaPepper, a digital marketing and analytics shop. He also used to be the head of marketing and business intelligence at Fiverr. He presented a real case study telling the story of an exciting SaaS platform.
The business in question is a B2B SaaS platform, targeting SMBs. Their marketing efforts weren't paying off and the metric that they were interested in tracking was 'revenue per new user', as opposed to conversion rate. By the time PandaPepper was done with them, this measurement was up 419%!
Kaizen Cycle
One of the best ways to approach conversion optimization is through something called the Kaizen Cycle. Kaizen is Japanese for 'improvement' and, when used in the business sense, refers to activities that continuously improve all functions and involve all employees, from the CEO to the assembly line workers. In this context, there are four steps that you will need to do in this order:
Measure

Hypothesize

Design

Test
In this way, your actions will be data driven, hyper measurable and have the potential for cross-functional agility, allowing all the functions needed to work in sync. And, after you've done all that, do it again.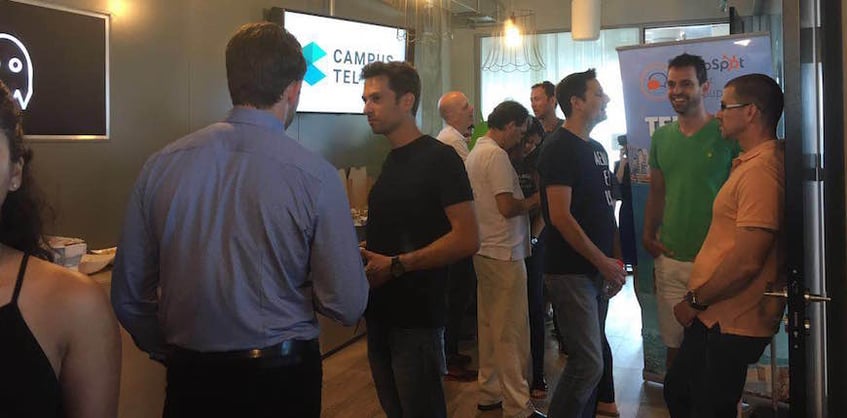 Analytics
When considering analytics, it's important to understand its function and make sure to find the MVP (Minimum Viable Product), in order to be efficient with resources. Therefore, you must understand the process in order to avoid paralysis.
Here are some valuable tools to help you measure and make sense of your analytics:
Google Analytics

: The ultimate analytics tool. An amazing platform that keeps on getting better and better. Do not give it up under any circumstances.
Mixpanel

: Enables you to drill into your data with segmentation, visualize that data in different ways and learn how people use your app.
Baremetrics for Stripe

: This is an out-of-the-box reporting platform that includes churn and lifetime value projection.

Your application's own database, including time stamps on conversion events and campaign attribution.
Optimize Acquisitions Through Funnel Optimization
This is where you test different audiences in order to identify those with the most positive ROI, evaluating which audiences need to be focused on and which can be sacrificed. You do this by A/B testing, using a platform like Optimizely.
In this case study, the A/B test that they performed was taking a form on one of the landing pages that was comprised of many questions and splitting into two separate forms. They would acquire the leads' email addresses in the first form, making it possible to reengage, even if they didn't continue on past the second form. This ended up doubling the amount of leads!
Optimized Reengagement
It is a fact that different target customers behave differently. What causes one persona to purchase your SaaS might not work for another. There are many different ways to personalize the user experience, but in this instance, PandaPepper used time-based price differentiation, using average time-to-purchase as a pricing factor.
When they analyzed conversion, based on days elapsed since registration, they learned that most transactions happened during the following 72 hours and almost no transaction happened 14 days after registration. While they wanted to offer discounts to users in order to increase conversion rates, they didn't want to cannibalize the existing activity. This is why they suggested offering time-based discounts, going into effect only after the target was statistically unlikely to yield any value without intervention.
Conversion Optimization Takeaways
In summary, if you want to optimize your conversions, you must define success correctly, use just the right amount of analytics, and optimize these three aspects:
Acquisition

Product

Reengagement
Elad Bleistein
CEO, PandaPepper
Pandapepper.com
@eladbleistein
Rob Cohen: Good Design is the Sum of its Parts
Our last speaker of the HUG was Rob Cohen, Chief Strategy and Design Officer at Penguin Strategies, one of the premiere inbound marketing firms in the world. He focused on putting your website's design into perspective, by taking a step back and looking at if it's actually accomplishing the goal that you're intending. He broke this concept down into 10 simple steps:
1) Have a Clear Value Proposition
When rebranding, ask yourself the important questions. Do you know who you are? Why are you different? Why does that matter? If you're unable to answer these, then you will undoubtedly have a hard time conveying your value to potential customers.
2) Keep it Simple Stupid
I know, it can be difficult to summarize your product into just a few words, but that's often what works best on home screens. This is especially true when selling complex technology in complicated industries like telecoms or FinTech. However, it is important to focus on making your customer's experience as uncomplicated and uncluttered as possible.
3) Drive the User to Act
This is the most integral step to making good design. If they don't act, then it's all for naught. It is important to take a step back from the more tempting, smaller decisions and create an urgency for the website visitor to take action. This can be done through sharing their actions on your site or creating competition amongst each other.
4) Don't Be Boring
Create a compelling visual story. Write copy that is engaging to go along with Calls-To-Action that pop off the page. Don't forget to make sure that the imagery correlates to the writing.
5) Be Functional (and Pragmatic)
Remember, you can't always make a masterpiece. There frequently isn't enough time or resources to make it perfect, but a lot of the time, it's just not necessary. For certain industries, it can even be counter-productive to make a glitzy and action-packed web page. Often, depending on the goal and industry, being plain and straightforward appears more personal and professional.
6) Keep it Current
After going through all the hard work of completing a new website, it can be tempting to not touch it again for years. There are a number of reasons why you should make an effort to keep your site current, not least of which is the consideration that returning users can get bored if they see the same thing every time they visit. You don't have to change your website every week, but the more often you do, the better.
7) Relevance Rules
All the top brands are tailoring their content, personalizing everything as much as possible, even personalizing the pricing. Make sure that you use the technology available to target your viewers based on location, job title, age or any other demographic. In other words, don't offer a customer in Australia the chance to win a ticket to Disney World in Florida (unless you're willing to pay for the plane ticket).
8) Get Your Copy Right
This can be the most difficult step, but it is also most worth the time and energy. The correct relationship between copy and visuals is imperative. Try to get your message out in an appealing way, but also in as few words as possible.
9) Be Intuitive
These days, almost no one surfs the web on just one device. Navigation on different screen sizes can be tough to do. Make sure that the desired action is straightforward, accessible and extremely noticeable on all devices.
10) Tell It as It Is
As marketers, it's sometimes tempting to oversell things. There is a defined link between visual storytelling and product marketing. Ultimately, if your product is no good, then it doesn't matter how good your designers are. Don't lie to your visitors and try your hardest to offer a quality product.
A Designer's Plea
We wrap up with these insights from the perspective of an experienced designer:
There's nothing that takes "just a minute" in design. Not changing a color nor moving a button. Quality design takes time.

Good design is not cheap, but it also doesn't have to be expensive.

Resist the urge to decrease white space, because that's what helps the page breathe.

Last but not least, trust your designers.
Rob Cohen
These speakers are amazingly talented,have incredibly useful insights, and would love to share their knowledge those who share their passion. So, if you have any questions about their presentations or about their work in general, just reach out and they'd be glad to hear from you. Good luck!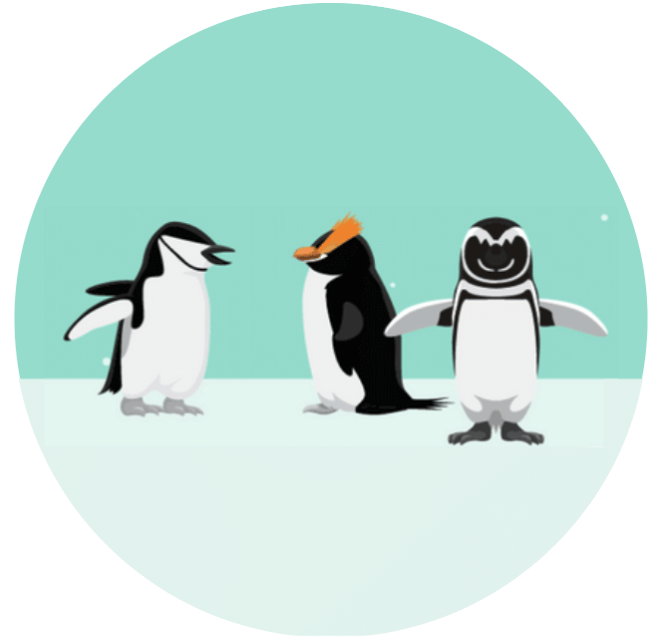 As a leading B2B digital marketing agency, We help B2B Technology Companies, enterprise software, and hardware companies increase brand awareness, reach more qualified leads and close more customers. Penguin Strategies is a Diamond Partner of HubSpot.