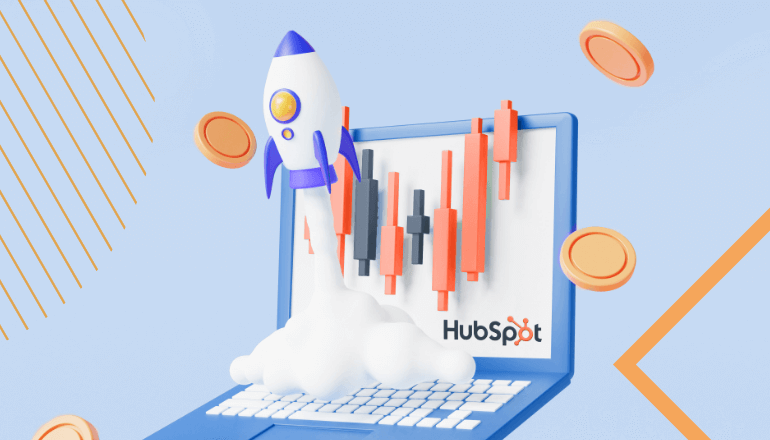 We recently saw this great ad on LinkedIn from our friends over at Firebolt.io:
We got such a kick out of it that we invited Firebolt's Head of Demand Generation, Itay Waisman to join us on Hubspot Hacks to discuss how this B2B tech company is using Hubspot Ads to optimize their paid media campaigns.
You can watch the full conversation here:
The Importance of Great Creative
The most important piece of a paid media campaign is, and will always be, the creative. But creative that makes someone stop scrolling and watch your video doesn't need expensive production value. Firebolt's LinkedIn is a great example of innovative creative that doesn't need to break the bank. Itay himself stars in their video filmed in their office.
As a startup, Firebolt realized that they were never going to beat the competition by outspending them. Itay shared:
"If you do the same stuff they are doing, you'll go bankrupt before them because they have more resources. So this is why we chose to go and do creative stuff, especially in an industry that didn't have a lot of humor. So we chose to put humor inside our marketing."
Paid Media is just one piece of the Marketing Mix
When you click on the Firebolt LinkedIn Ad it takes you to a landing page that offers additional thought-leadership content and a contact form. The content on that landing page is closely tied to the message of the video. They optimize the page for conversion, but if visitors don't convert, that's ok. Now that the visitor has interacted with the video, Firebolt can retarget them with middle-of-the-funnel and bottom-of-the-funnel content like workshops.
Advantages of Using Hubspot Ads to manage your paid media campaigns
While HubSpot is a great tool for marketers of all skill levels, it is particularly helpful for those who are not as fluent in defining the metrics they will need to report on and generating reports. HubSpot offers many out-of-box reports that are a good place to start until you figure out which additional custom reports you will need to create on top of the basic ones.
A few reports we recommend starting with include:
Ad campaigns with Cost per click
Ad campaigns with cost per contact
Ad clicks by social network
Ad impressions by social network
Ad spend over time
This data can be used to determine which ads are performing best and what kind of contacts are attracted to the ads. It's important to not only track the volume of clicks and leads (which can be a vanity metric) but also the quality of the leads you are attracting. Is your target audience seeing and responding to these ads? Which ads are generating the contacts with the highest intent
For Firebolt, they look at which ads are generating the most meetings and which contacts generated by the ads are actually showing up to the meetings. If an ad is generating a lot of no-shows, that tells Firebolt that they need to adjust the audience the ad is targeting. They try to look as deep into their sales funnel as possible to measure the effectiveness of their campaigns.
Monitoring Targeted Accounts
Most B2B companies work with a specific list of target accounts that their sales team is pursuing. Using HubSpot Ads can help measure the impact of paid media campaigns on target accounts. For example, you can use HubSpot to show that the conversations that the sales team is having is getting some traction because in parallel, we are seeing people from those target companies coming to our website or engaging with our LinkedIn ads.
SCREENSHOT from 32:29
From the Target Accounts page within HubSpot, you can see at a high level, how many target accounts you are pursuing, how many open deals you are working, your open deal value, and information about the buying role of the contacts in your database. This page provides information about what's happening with these target accounts based on industry, lifecycle stage, ideal customer profile, teams, and owners.
HubSpot also gives you recommendations. So, based on the number of associated contacts and last engagement, you can actually see which of the companies are coming to your website, and maybe you should be reaching out to them.
Using the HubSpot Prospects Tool to Gather Intent Data
Within the target accounts page in HubSpot you can use the Prospects Tool to get information about who from your prospect companies are coming to your website. The prospecting tool identifies your Ideal Customer Profile (ICP) based on the domain of the companies in your prospects list. You can set up notifications to alert your sales team when a person from a prospective company is active on your website.
Firebolt uses this tool in two ways. First, they use the Daily report to provide their sales representatives with a daily list of prospects that are not only relevant but also hot. Contacts that have been on the website in the last 24 hours is an excellent indicator of high intent. In fact, Itay told us that the daily prospects report is the best intent data a company can get. Sales representatives that follow up with prospects quickly after the prospect has been on your website have a much higher chance of scheduling and conducting a productive sales call.
"That report is the best intent data a company can get."

-Itay Waisman, Head of Demand Generation, Firebolt
The second way that Firebolt uses the prospecting report is by connecting it to their LinkedIn audiences. This helps re-target prospects that have been active on your website and get them to re-engage with your content.
Building Audiences
Using targeted audiences like those pulled from the HubSpot prospecting tool helps you avoid a "spray and pray" approach to advertising.
Video clip about spray and pray
It's very important for advertisers to really take the time to define a list of companies that is relevant to them. Whether you have a target audience of 100 companies or 1,000 companies, marketers need to sit with the sales team and really define who the target companies are and who the decision-makers are within those companies.
Doing this will allow you to advertise to those companies and then go back into Hubspot and report on how many people from those companies you touched, how many touchpoints people interacted with, and report back to sales which prospects are hot.
Exclusion Groups
Another important piece to making sure your ads are targeting the right people is to create exclusion groups so that you don't waste budget advertising to irrelevant audiences. For example, Firebolt gets a lot of traffic to their website from consulting agencies that are researching solutions but would not be a fit for Firebolt as a customer. To filter these visitors out, Firebolt set up a HubSpot workflow so that any time a new consultant fills out a HubSpot form, they add that entire company to an exclusion list. That way they know they are not spending money on advertisements to people in that specific firm anymore.
Paid Media can be an expensive channel so it's important to stretch every dollar by making sure you are using great creative, incorporating your paid media into a broader marketing strategy, and making sure you are targeting the companies and individuals with the highest intent. At Penguin Strategies, our PPC and HubSpot implementation teams work together to set up the HubSpot Ads Manager in a way that produces optimal results for our client's paid media campaigns.
For more HubSpot Tips and Tricks register now for our upcoming HubSpot Hacks webinars.