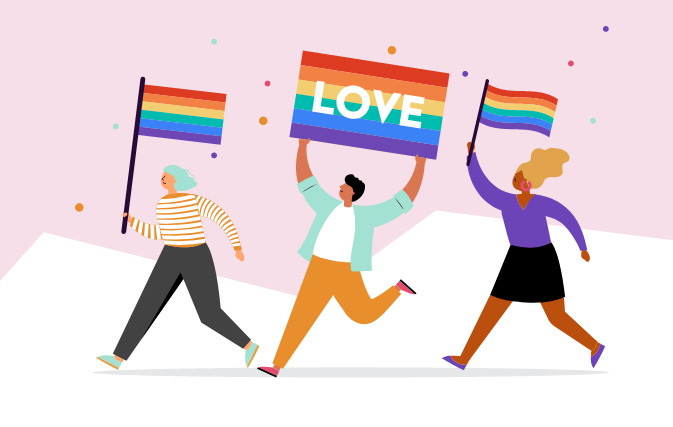 Utopia: A world where the same is different
Imagine a world where we all woke up in the morning, we all ate an apple, we all drove to work in the same car, we all worked in the same company doing the same thing, we all had the same views of the world and we all ended our day in the same pyjamas!
Now imagine a world where we are all different, unique and can constantly pick and choose when and what to learn and grow from. After using our imagination for just 1 minute here, we can already see how diversity can only be a good thing and make us smarter and stronger.
Granted that Pride Month is specifically focussed on LGBTQAI+ (yes lots of letters - but also lots of diversity), but I always remind myself of the absolutely huge opportunity to grow. There is a lot of difference in the world - color, race, height, weight, religion, sex, health, and more.
It is important for us to learn from literally everything.
Just the LGBT+ community makes up around 10% of the world's population if we accept some commonly accepted numbers. That means twice the number of all the people in the US, the community is actually equal to the third largest country in the world, unless you take the 10% percents out of China and India - and we have the largest virtual country in the world.
We have humans from every part of the world, every background, every skill and every view. It is difficult to understand how so many still need to accept this massive part of humanity. It is difficult to understand why Pride month is still so important. And it is especially hard to accept that debating LGBT+ rights is still considered a "leftist agenda". Surely, really surely, every person in what would be the world's largest country being treated equally is simple and basic human rights?
On a personal note, I remember when I transitioned many years ago. Those close to me supported me, but 6 months into my gender transition I needed to find a job.
That was tough.
No role models, no chance of passing as my new gender presentation after just 6 months since coming out and living as my true self. Nobody gave me a chance. I went back into the closet, emerged as me, with no past and started all over again.
Today I have built sales and commercial approaches in multiple startups and have taken companies from a $5 million valuation to over $300 million in 3 years, and from $0 to profitability in 6 months.
I am the first trans Chief Revenue Officer in the world of technology. I was included in the Marker's list of top 30 LGBT executives in 2020 and was the subject of a portfolio in Globes Magazine. Thanks to the somebody who gave me my first chance. Instead of focusing on how to be me, the "me" can focus on how to build a company.
To embrace this massive diversity, to leverage our colleagues, friends, parents, children, sisters and brothers is simply too powerful an opportunity to miss again.
The first thing I do when I build a team is easy. I build a diverse team where everybody has a superpower, where the dynamic of individuality and the experience of our own unique journey can feed each other and make each individual in the group better. The proof of diversity at work is in the results.
How do each of you actively enable diversity in what you do? I would love to hear your new ideas. Simply put, no company can afford to miss this opportunity - again.
We do not celebrate Pride to simply accept people. We celebrate Pride to actively improve ourselves, our companies, to advance our careers and grab success by the scruff of the neck.
I don't know about you, but I want to live in a world where we embrace our differences, where being the same becomes an exception to change.
The paradigm has changed from where success is survival to where success is quantified in real, tangible achievements that could be achieved in no other way than by embracing difference.
Be different, be yourself, empower others, embrace diversity and go forth!
I am watching out for your journey to the stars.
Happy Pride Month, Bianca
Bianca was born and raised in Johannesburg, South Africa. She was educated as an attorney and later moved into management positions in the corporate world. Bianca immigrated to Israel in 1997 and for the last decade has specialized in building sales teams at technology start-ups, including Logz.io, where she helped take the company from a $5 million valuation to well over $300 million within 3.5 years. She is currently the Chief Revenue Officer (the first trans person in Israel to rise to this level) at Opster and serves on the commercial advisory boards of a number of start-ups. Bianca also serves on the Board of Directors of LGBTech and was included in The Marker's list of top 30 LGBT Executives in 2020 as well as being profiled in Globes Magazine. On a personal note, Bianca has survived being in a coma, being confined to a wheelchair for over a year, gender transition (and rebuilding a career as a "different person") and is bringing up a child as a single mom!