BLOGGING TO BE SEEN: SEO POINTERS (PART III)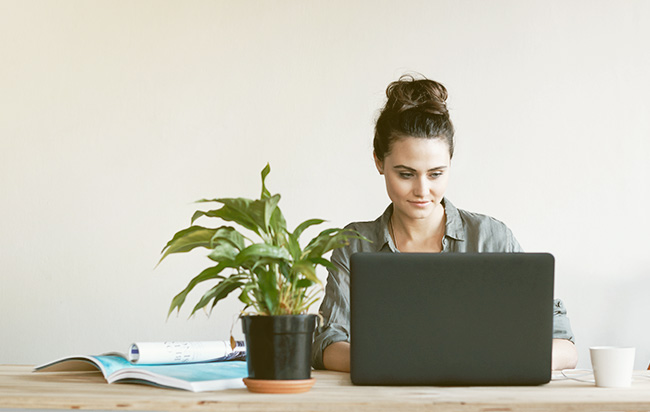 22 Mar 2020
Did you miss Parts I and II? Catch up now!
What's Behind a Great Post? A Great Call-to-Action
When you start a blog you do it for a reason. That is, blogging to be seen is only the first step. Why do you want to be seen?Sometimes you want to sell stuff, get leads or build an awesome personal brand. Every single time you write a blog post, you must be sure what's its goal is and make sure you provide the means to achieve it.
In the world of content marketing, that means comes in the form of a Call-to-Action, or a CTA. In the simplest terms, a CTA is when you ask something of your readers. Click here, fill in your name and profession, follow me on Twitter, date my lonely little brother - whatever.
The CTA is the wardrobe to Narnia. That's the gateway; that's where our lead's journey begins. Here are 4 guidelines to get the most out of your CTAs:
Have a clear goal
Create a funnel for your blog content
Create content for each stage of the funnel (ToFu, MoFu, BoFu)
Optimise constantly
You must envision each of your blog posts as the entrance to your funnel. Different posts may have different objectives.
For example, you may create a funny blog post about a news topic that won't get you any leads, but may get you quite a lot of traffic and word of mouth. In that case, you can incentivize sharing through additional (related) content and try to make it go viral. In that case, you'll want to play around with WordPress plugins such as wpLike2Get or tools such as Pay with a Tweet.
For other pieces of content more focused on your marketing personas, you should create specific content that will get you your readers' email addresses. Studies, whitepapers, templates, webinars… there's unlimited resources you can offer.
ToFu, MoFu and BoFu - the type of content you want to use for every stage of the conversion process - will be your mantra here. Just remember that not all content is for every user. Content should be shaped to its context - the publishing platform, viewing device, audience segment, marketing channel, and time. Context is hugely important. Experiment frequently to obtain better results.
Don't Forget Taxonomies!
I know what you're thinking - what the hell's a taxonomy? In regular English a taxonomy simply refers to way of grouping things. In blogger speak it usually refers to the tags and categories that you build into the backend of your posts. (Though it can also refer to post format and link category.)
Many bloggers don't pay attention to categories and tags and fail to give them the importance they deserve. Long story short, using taxonomies will improve your SEO and UX.
Big content generation machines such as important blogs or newspapers tend to generate a humongous amounts of traffic to their tags and categories pages.
That's how taxonomies can help you. But if they can help you, it stands to reason that they can also hurt you. Indeed, they can. If you don't plan and map your taxonomies in advance, according to an organized and consistent model, the chances of ending up with an underperforming mess are high. Plan in advance or you'll be buried in tags and missing out on a big traffic-driving opportunity.
If you want to know more about how to plan, correct and optimize your taxonomies, you can check this guide on blog tags and categories.
Give Credit
Here's your daily truism: People trust people more than brands.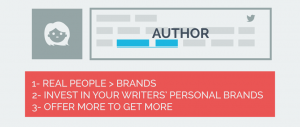 Put it this way: Would you rather share an anonymous article from a brand's website or an article from an authoritative expert in your field? Why would anyone prefer anonymous content?
Using real people as authors tends to work well. Not only gives you an additional layer of trust, but you'll also contribute to their personal brands. If you have a small blog with small authors, investing in their personal brand will make your blog bigger.
For a corporate blog, this goes hand in hand with giving your team opportunities to "upskill", network and promote themselves.
Giving credit boils down to these 3 simple principles:
Real people write better than brands
Your author's personal brands will work in your benefit
The more you offer your authors, the more they'll give you
Ultimately your blog should be a platform to get your brand and its ambassadors "out there". If you can't yet win people by sheer force of traffic, you need a way to build a message that will resonate from a voice that's motivated.
Give your team a goal, a project to believe in, a good platform to be on. Use your blog to link to team members' social media accounts, add links to relevant personal websites in the author bios, etc.Make sure your blogs doesn't turn into a link building platform, but offer enough visibility so that people will want to write with you.
Blog Socially, Force Interaction
First, you should make it easier to share your posts. SumoMe offers a heck of a social sharing bar. Filament also includes tools to share highlighted text, which comes in handy. Both are growing to become full analytical suites - I haven't used them as that, but you're more than welcome to talk about it in the comments.
If you offer resources such as infographics, adding a string of code other users can copy and paste into their websites is a good way to make things easy to share.
Pro tip: Add a piece of text with a link to your website in that code, something like "Courtesy of Penguin Strategies" to generate links as well as shares. If you won't do it for me, do it for SEO.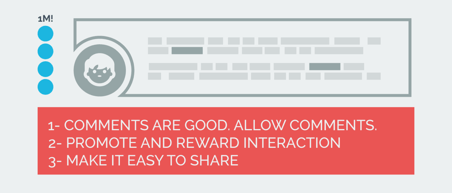 Blogging to be seen is great. What's even greater? Blogging to encourage comments! Comments add new and different content to your blog posts - an SEO win - and engage your audience. The best way to build your brand is to build a brand community and comments are the digital equivalent to throwing a block party. Always answer your users and give feedback.
So how do you blog to encourage

comments? Contrary to popular opinion, I haven't found that directing questions to readers generates comments. Rather, posts that are useful, critical or mention third party resources - specially to criticize or praise them - tend to generate more comments.
Make sure you allow comments in your posts. Disqus is a favorite of mine, but you can add Facebook comments or allow the default comment section in your CMS (Content Management System).
In the end, many websites end up creating forums or owned platforms where their users can generate content. User generated content can drive most of your website traffic, if approached properly. To spark UGC, social media is a good first step. Ultimately though, to best leverage UGC, you'll need to create channels to drive that contribution to your owned platforms.
So that's it - blogging to seen in a few short steps! Want to write the best performing blog post in the history of mankind? Just pay attention to the URL, title, goal, CTA, text, images, variety, comments, social sharing buttons, and a few extra things. Easy as pie.
Feel like your blog post isn't perfect? Don't worry, neither is this. Always try your best and always aim higher for the next one.
This is the final installment in our series of guest posts on SEO from Bruno Rodriguez Armesto, Head of Inbound Marketing at ThunderMetric.