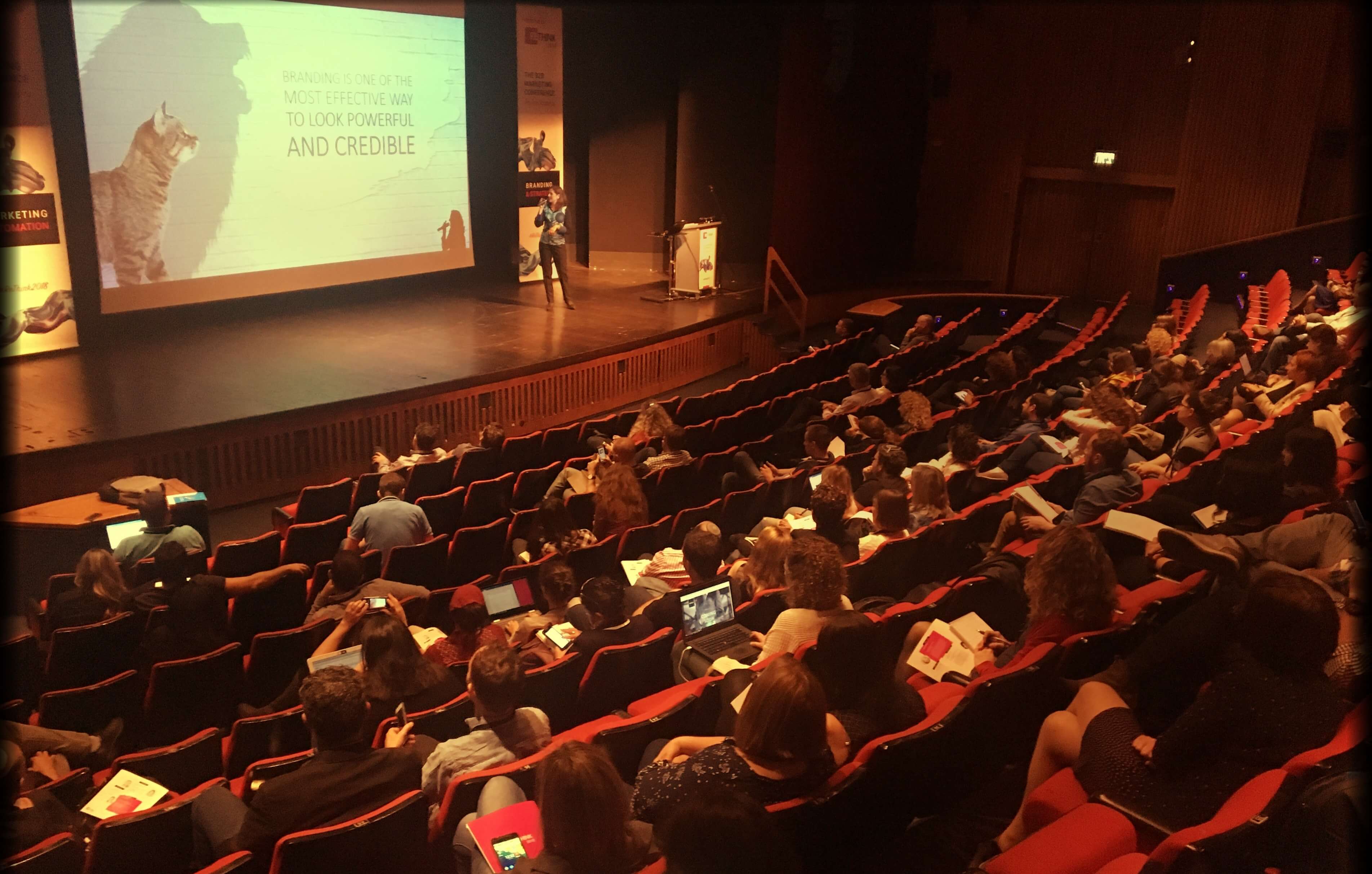 The ReTHINK Summit 2018 thrusts both local and global digital marketers forward to consider the future of their consumers, instead of the present. The event allows like-minded marketers to share best practices, techniques and most importantly lets them network.
This year, as B2B Tech Marketing Agency, along with Titan, a Global Branding Agency, we - Penguin Strategies - hosted 2018's first Quarter event at the Eretz Israel Museum in Tel Aviv-Yafo.
There were over 200 individuals that attended, where our six speakers reached deep into the minds of the audience, empowering them with the tools and knowledge of tomorrow before unleashing them with a new toolkit of strategies, techniques, and ideas to confidently dominate 2018 with breathtaking execution of an expertly crafted mobile strategy, aimed at delivering real results.
Below you can find a recap of each speaker's presentation with a link to download their respective presentations.
Our CEO, Perry Nalevka, opened the day with an inspirational and conversational segment on the importance of remapping, improving, and continuously making impactful changes to websites that enhance the user experience, consumer engagement, and conversions. Pushing the envelope of creativity, Perry turns a website into a product, which requires a Product Manager and that is precisely the mindset Nalevka claims CMO's should be in. Moving forward Perry highlights the advantages of "continuous improvement" and the Four-step concentration model for planned marketing success.
Download Perry Nalevka's Presentation - Why You Should Redo Your Website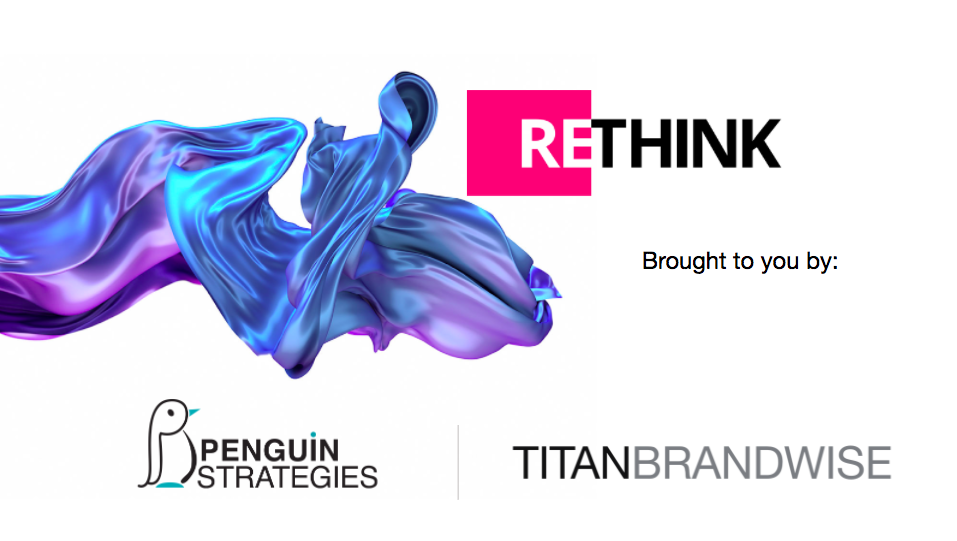 Quickly grabbing our attention next was Titan BrandWise's Digital Storyteller, Talia Slutski's presentation that focuses on hyper-consumerism or the act of instantly attracting a user within a short window of time. Talia brings in hard-hitting facts of the diminishing attention span of consumers and brings forth incredible insights on the four critical attention phases:
Mobile Feed Content Recall: 0.25 sec

Time Spent on Mobile Content: 1.7 sec

47% Value Delivered in Video: 3 sec

74% Value Delivered in Video: 10 sec
Slutski references the crucial moments and factors surrounding the attention span of the consumers and importance of grabbing their attention with those fractions of a second to hook them into the brand. Ultimately Talia, enforced her arguments with brand recognition, stating B2B companies are among the most influential brands in the market. Her take away message: "The importance of a compelling brand, getting the message across in a condensed digital arena."
Download Talia Slutski's Presentation - Digital Storytelling & Why Is It So Important ?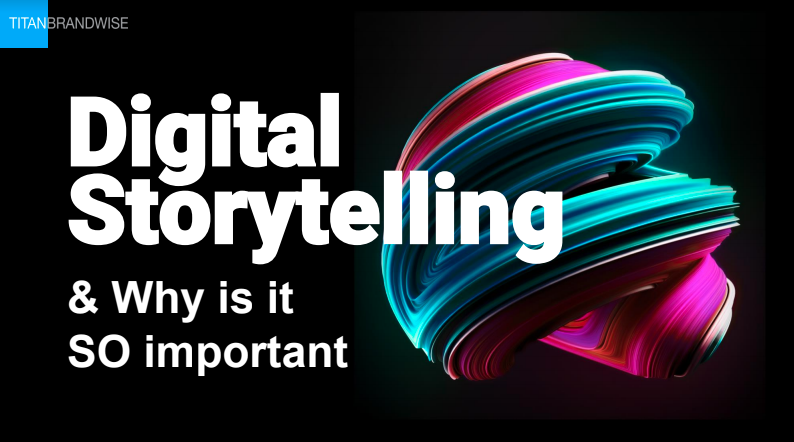 Before taking some time for a small break, Jamie Turner, Founder and CEO of 60 Second Marketer, took to the stage with a compelling presentation on why consumer's buy products, even when they aren't needed. Turner presents a "Break through the Clutter" approach, focusing on the customer brain. He addresses two valuable insights:
What are Consumers Buying and What are the Hidden Reasons for Purchases?

Why Do Customer's Choose a Competitor's Brand Over Ours?
Jamie's walk away points to remember, include the nonlinear consumer funnel, effectiveness of Social media as a tool, and how brands are adapting to a nonlinear sales funnel to become woven into consumer's lives.
Download Jamie Turner's Presentation - Why Your Brain Buys Stuff It Doesn't Need
Taking to the stage after Jamie is a branding extraordinaire from CXP Consulting, Tania Amar, hitting the ground running with her presentation on the importance of "Brand, Position, and Message" or BPM. Tania explains how effective branding is vital to creating a powerful and credible image, which starts from day 1.
Amar's main focus answers two fundamental questions:
Why do I need branding?

How to be successful using branding?
Tania Amar's presentation focus: "Learn about the best practices and key principles, from personal experience and inspiring examples of how the most influential CMOs in the world are using Branding as a platform to expand into new markets, accelerate transformation and foster new ways of doing business."
Download Tania Amar's Presentation - Why Do I Need Branding Now?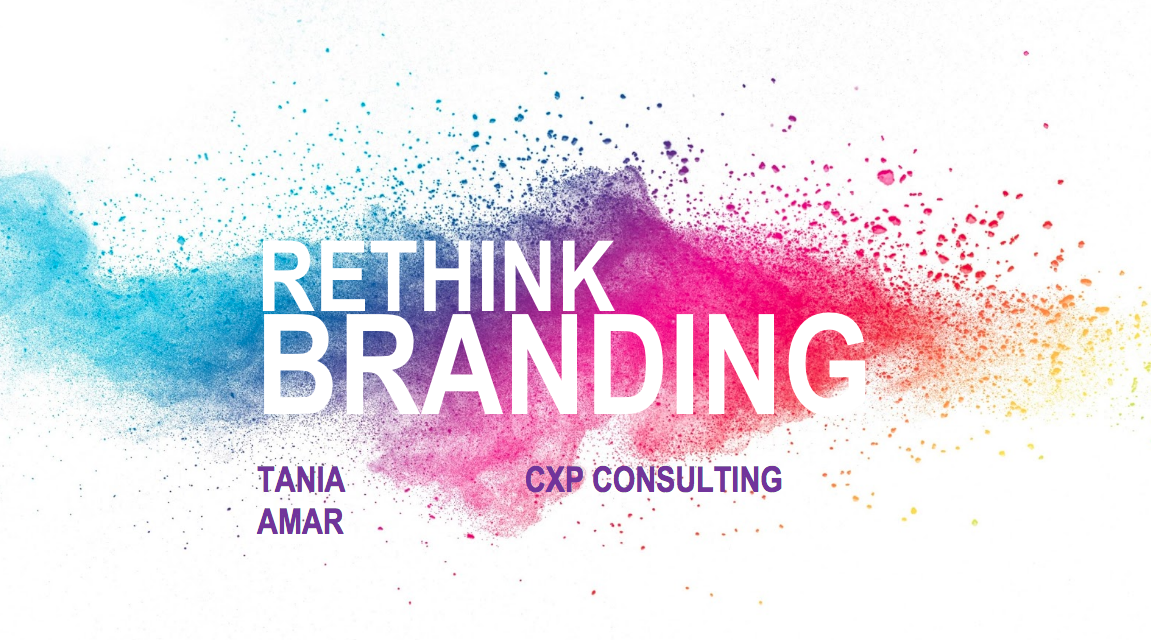 Just before lunch, Jon Burg, Product Manager at AppsFlyer, together with his colleague Bar Madmon, Marketing Manager, takes to the mic to express the important value of connecting business value, content strategy and account-based marketing to accelerate growth. Burg starts with outlining the industry to show growing trends and shifts in marketing tactics. John also touches down on three main points that explain the REAL challenge:
Telling Brand Story

Categorizing Leaders

Driving Leads and Upselling
Burg then explains the critical point of understanding progressive profiling, nurturing, workflows and impacts of content to increase click-through and open rates. The key points that John emphasizes to take away are:
Personalize Content

Forms Still Matter

Remember to Follow-up Fast
** Apologies, but we do not have permission to distribute the presentation of AppsFlyer**
In this block, the floor opens up for discussion between the CMO panel. During this segment, guests and speakers openly collaborate on the how marketers should measure activity in ROI above any other stat while understanding that quality marketers must be a "Jack of all trades."
The take away from the piece is that the whole scope of the project/product/goal has to be understood as well as implementing the best practices for customer awareness, focusing on solving consumer problems. The goal is to determine what questions to answer before developing a product or solution.
Successful Marketing = Brand Nourishment + Continuously Fed Sales Funnel
Following a short intermission, Director of Corporate Marketing for SimilarWeb, Ethan Chernofsky, steps up to talk about the importance of creating a resonating brand identity and a four-step vision that puts it all into an "Inside the Box," pattern of thinking.
Choose your shape – Company Identity

Context is Critical – Audience

To Resonate is to Connect – Competitive Landscape

Structure Drives Creativity – Vision
Ethan ends with explaining the contents of the "Branding in the Box" and challenging guest to consider their brand direction and message.
Download Ethan Chernofsky Presentation - Messaging in the Box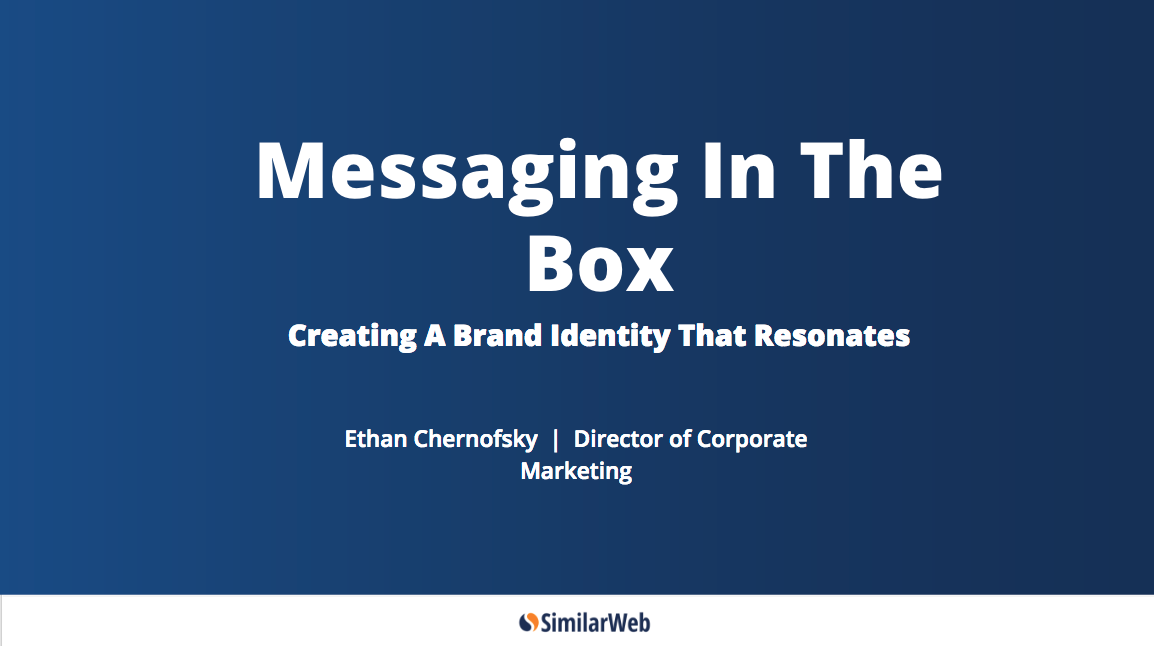 Before closing remarks Hubspot's Principal Product Marketing Manager, Marcus Andrews enters with a compelling statement on the "new customer experience." Andrews introduces a new product line from HubSpot that is 100% focused on consumer experience: Customer Hub.
Marcus' final statement echoed through the ears of everyone in the audience:Along with the product drop, Marcus also hits on how customer services are changing, how tech has transformed communications, and what new customers are looking for in their experience. As Marcus progresses through his presentation, he shows a before and future of the customer experience, relating several key topics and trends that show be incorporated into successful business model growth projections. Andrews provides a simple "Engage, Guide, Grow," model that shows how to turn consumers into brand promoters to grow business.
"Customers are not a problem to be solved. They are a potential to be realized."
Download Marcus Andrews Presentation - The New Customer Experience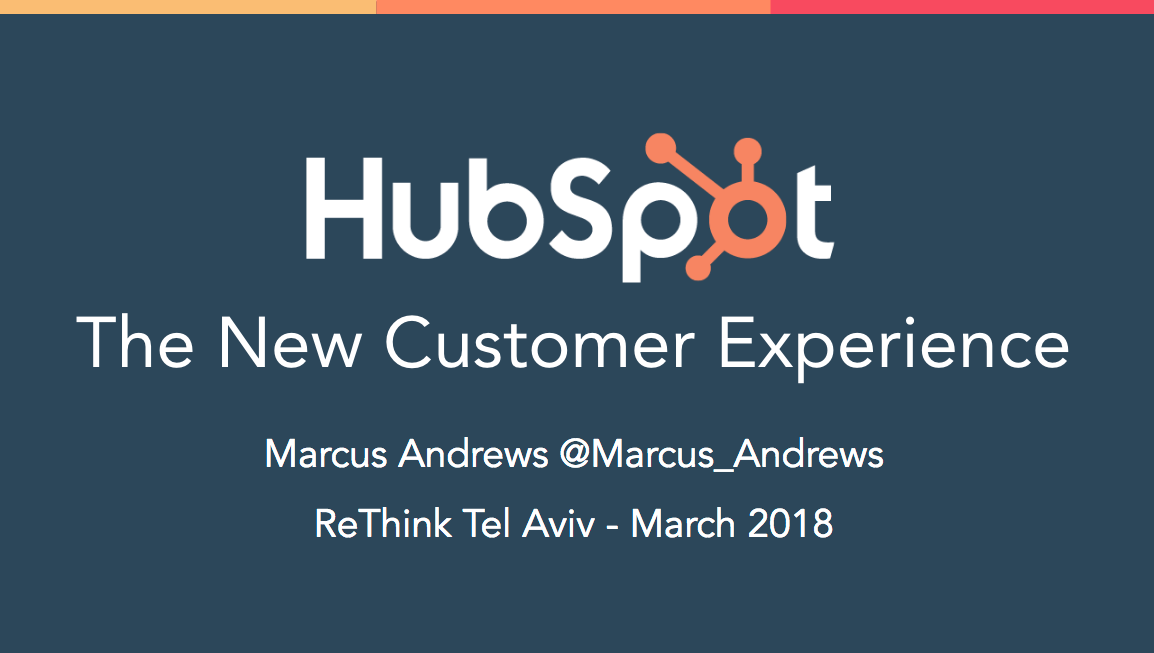 We do hope that the day's event was informative and useful to you. Do let us know what you liked or think we can improve on for future events.
Just contact us here.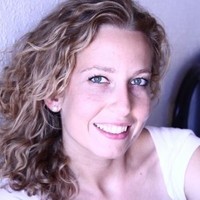 Marketing Consultant at Penguin Strategies. She is a made-in-Italy globetrotter who is always on the look of how to exceed clients' expectations.