4 Steps to Make Your Content Marketing Not Suck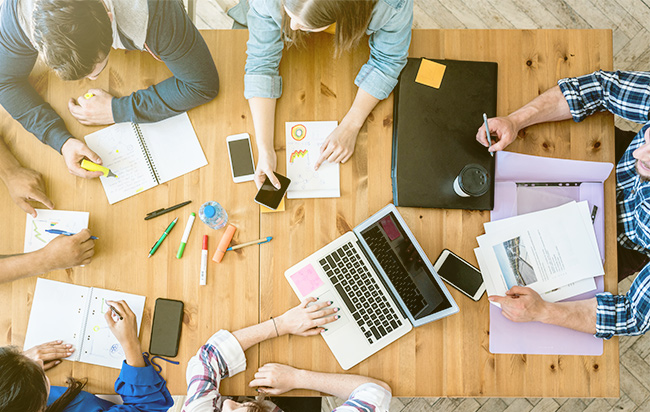 03 Nov 2022
Recently, we co-hosted a webinar featuring the amazing Matthew Barby, Global Head of Growth & SEO at Hubspot. He had many helpful insights into how to find and create quality content. We hope everyone learned as much as we did, but just in case you missed it, I have put his ideas and strategies into my own words for your convenience .
Great Content Just Isn't Enough
The first lesson we learned is that just because you created some amazing blog or infographic, doesn't mean that scores of people will find it.
Unfortunately, producing an incredible blog in a vacuum may be just as productive as producing nothing at all. Ultimately, your content needs to be aligned with the rest of your marketing strategy or you might as well be writing those blogs on parchment, rolling them up and sending them off to sea in a bottle with your fingers crossed.
Developing a content strategy is integral, whether you are a startup, a small business or an enterprise. In order to do so, here are the four necessary steps:
1) Competitor Analysis
Analyze your competitors, but not for the sake of mimicking their strategy, or at least not entirely. While it is important to know what works for them, it is equally important to understand what is NOT working for them.
Fortunately, there are many tools for this express purpose, that are often free to use. It is best to determine your four or five main competitors and measure the following metrics:
Estimated Traffic: A great tool to use to estimate your competitors monthly traffic sources and engagement is SimilarWeb. They break the traffic down by date range and geographic location. They have many more metrics to explore, which give valuable insight into what is working for your competitors.
Domain Authority

: Domain authority is an SEO metric, which is on a 100-point scale of how authoritative a site is from an SEO perspective. Use the

Moz

website or toolbar to get a relatively accurate estimation of this measurement.

Backlinks: Searching your competitors backlinks show how many other pieces of content link to the piece in question. The more backlinks a blog possesses, the more attention it will receive. In order to find these numbers, you can search on Moz, but also

Ahrefs

or Majestic.

Linking Website: Research how many different domains link to your competitor's site and the quality of those domains. If their piece of content is being linked to from tons of sites, it is important that you know, but it is also important to know how reputable those sites are. This measurement can also be found on Ahrefs, Majestic or Moz.
Monthly Branded Searches: It is also important to find out how often the competitor's brand name is being searched and how it's being searched.

Google AdWords

is an amazing tool for brand discovery.
Perhaps the most integral tool to use is Buzzsumo, which is great for looking at the kind of content your competitor is producing. You can see how many shares each of their pieces is getting. This enables you to observe what topics are popular and, just as importantly, which topics just aren't working. While social media certainly is a good barometer for the level of interest of the public, but remember, Buzzsumo doesn't actually measure the amount of resulting leads.
2) Industry Content Analysis
Now that you are doing all of the competition analytics on a monthly basis, or as often as possible, we can begin to come up with some actual content. As opposed to just seeing what content does and doesn't work, you can choose some of your own topics to move forward with.
Here are some tools that can be incredibly helpful when deciding on your next blog topic:
Buzzsumo

: The aforementioned website allows you to search for content based on a specific topic, enabling you to see

where

it's been shared,

who

's sharing,

who

's linking to the content and

which

themes seem to resonate.

Quora

: This is a lesser utilized social media network that is comprised of questions, which are often answered by experts in whatever field is most relevant. Quora is helpful in two main ways. It allows you to find out what kinds of

questions

, or topics, are most popular in your industry and also to use the

answers as research. Additionally, if you attempt an answer on a thread and get positive feedback, you can turn it into a blog and share it with that thread after you publish it. Snag those views in an undoubtedly interested space.
Reddit: First of all, ignore the bad reputation that reddit has in the marketing community as a site full of trolls and cat videos. It's only MOSTLY full of cat videos. Regardless, there is a veritable trove of useful information on the site. You can search through specific 'subreddits' (for example, reddit.com/r/marketing or reddit.com/r/cybersecurity) and see what the most 'upvoted' questions and topics are. Those threads concern what people want to learn and discuss. Reddit can also validate whether your existing idea is good enough, through user suggestions and feedback.
These sites are very helpful, but remember, no matter what industry , there is usually some sort of dominant online forum that you can find with a little searching. Whether it's the fast food industry, manufacturing technology or alpaca breeding, you will find a group of people online who passionately discuss their trade and share useful information.
3) Auditing Your Existing Content Marketing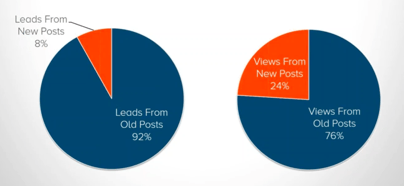 Let's remember that around 2.5 million blog posts are published online every day. About 95% of that content fails. There is no proven formula and there will inevitably be failures. Matthew shared some statistical research from the marketing blog on Hubspot.
As you can see, 92% of their monthly blog leads came from posts published in the previous month or earlier. So, you can see the value in older content. When it comes to underperforming content, don't throw the baby out with the bathwater. Rather, go back to that piece and improve it.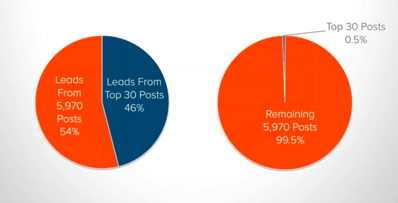 Another pattern that they detected was that the CTAs offered on the top performing pieces are well aligned to the original blog post created. Irrelevant CTAs can doom an otherwise promising piece of content. Impressively, when going back and realigning to more appropriate offers, they saw a 240% lead increase!
4) Keyword Research
This is possibly the main aspect of successful organic traffic. We can break the keyword research down to four main steps.
Outline your main content, themes and topics. Thanks to the previous steps, you now have a fairly good idea of what will garner your site traffic from the right readers.
Research broad terms, otherwise known as 'Pillar Content'. These types of keywords and topics should be much broader than most, which means that they would appeal to a larger volume of searchers. Don't be afraid of targeting a competitive space with your Pillar Content. Ideally, this content should be your 'evergreen ', or be relevant as often as possible.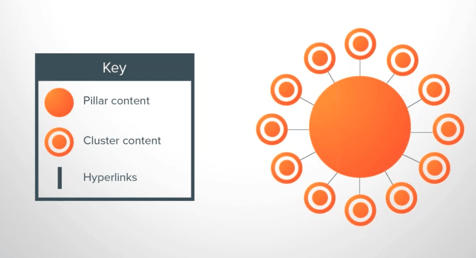 The next step is to build around these broad terms with long-tail terms, or 'Cluster Content'. These phrases are more specific and target a lower volume of searchers. The appeal of these keywords is that there are more of them to choose from, they are less competitive and they ideally lead the reader back to the Pillar Content.
At last, you are ready to build out content and rank for your keywords.
Finding Your Content Success Formula
As I'm sure you are aware, scrutiny of past work is imperative to creating quality content in the future. In-depth analysis is necessary to finding the winning formula for increasing leads, links, social shares and more.
Matthew shared some examples of elements that could be worth paying attention to. However, it's important to keep in mind that each industry is different, not only where the statistical results are concerned, but also regarding what types of statistics.
Word count vs organic search traffic

Article title length vs Twitter shares

Date of publish vs inbound links

Article topic vs leads generated

Words in title vs Facebook shares
Hubspot researched over 6,000 articles in their marketing blog and found that their best results came when they had:
A

word count

between 2250 and 2500.

A

title length between 11-14 words.

Adding to a Twitter post the word 'infographic' increased tweets by 100% and 'template' increased by 114%.

More backlinks, which attracted the largest volume of organic search traffic.

More social shares, which predictably caused many more inbound links.
Thank you Matthew Barby for contributing these amazing insights and helping marketers improve content. Watch the webinar yourself and implement these findings into your future strategy and see the leads roll in.
Looking to understand the different elements that influence how you score a lead? Download this free guide to learn more.